i
Consider a sponsored online MSW program that is taking applications for 2023.
School
Program
Admissions
University of Kentucky
Online Master of Social Work (Clinical Social Work Certificate available)

Clinical certificate available. Gain an advanced level of clinical knowledge and skills, including application of social work practice in a variety of clinical settings.

University of West Florida
Online Master of Social Work

MSW program features clinically focused courses grounded in the study of medical and behavioral healthcare, and it provides hands-on learning through clinical field internships.

Baylor University
Master of Social Work

Clinical Practice specialization. No GRE required, complete the MSW online program in as few as 12 months.
Click to view accredited online MSW programs that are taking applications right now and for 2023.
There are 22 online MSW programs available that have a Clinical MSW concentration and are also CSWE accredited (Council on Social Work Education).
Online Master of Clinical Social Work programs are mostly designed for those looking to become a Licensed Clinical Social Worker (through LCSW certification), with curriculum including: diagnosis of psycho-social issues, mental health prognosis and restoration, intervention, psychotherapy, and mental health assessment, among others.
Clinical social work is a sub-field of the MSW, focused on clinical work
As you learn more about Social Work and the different concentrations that are present within this field, you may see that Social Workers can have a profound impact on many different groups within society. One sub-field of Social Work that has attracted many new applicants each year is the field of Clinical Social Work. This incredibly influential field can have many different attributes that are pulled from fields such as Counseling, Psychology, and Sociology. Read more below to learn about this fascinating degree option.
Why a Clinical Social Work MSW helps you stand out
Clinical Social Work often involves a more personal approach to improving society. Working in a one-to-one or group setting, Clinical Social Workers can help clients better understand the influence that society and social interaction plays in their everyday woes. Clinical Social Work can be a part of therapeutic acceptance of serious illness or death, helping people that have been diagnosed with mental illness find resources and support in society, assisting people with substance abuse issues identify their strengths or even counseling families that are prone to domestic violence or neglect.
Click to view all online MSW programs that are currently accepting applications.
List of Top 22 Online Clinical MSW Programs Accredited by CSWE, Updated for 2023
Accredited MSW in Clinical Social Work programs can be found in many states throughout the US. If you are looking for schools that offer a MSW degree online, the CSWE provides up-to-date listings for accredited online schools on their website. While the list below is not exhaustive, it can provide you with a good idea of the possibilities available to you for your education.
Clinical Social Work Licensing Requirements
In order to be a guiding resource for people within society, you must obtain licensure after completing your degree program. There are a strict set of requirements for becoming a Licensed Clinical Social Worker, some of which may vary slightly depending on which state you live in. Our team of experts has provided you with a standardized list of requirements you will need to abide by in order to become a LCSW. Check out the list below.
Completion of a CSWE-Accredited MSW Program: Your choice of a MSW program can take a toll on whether or not you can becoming licensed in the future. The first step at this point is to choose a MSW program with a relevant specialization in Clinical Social Work. You must also ensure that the degree program you are enrolled in has been accredited by the CSWE. Accreditation ensures that your program is reliable and up to date on national standards for educational programs in Social Work.
Supervised Work Experience: After you have obtained your degree, you should find work experience under the supervision of a Licensed Clinical Social Worker. This experience can help you better understand how your expertise can be provided in a clinical setting. This requirement can vary depending on the state – which some states requiring 3,200 supervised clinical hours and others designating a minimum of 3 years experience.
Additional Coursework Requirement: Most MSW programs include all required course work for licensure, but your state could require that you take certain courses in order to apply for licensure. Examples of some courses that may be extra requirements are those that pertain to Physical Abuse, Sexuality, and Substance Abuse.
Apply for and Successfully Complete Board Examinations for LCSWs: As a final requirement after your educational programs and supervised work experience, you may also be required to take a board examination specifically for Clinical Social Workers. This exam will test your knowledge and abilities in the field, in an effort to ensure that you have what it takes to work one-on-one with the public. Once you have successfully completed this examination, you can finish your documentation for licensure and begin working in the field.
Psychotherapy Used in Clinical Social Work
Some of the tools utilized in Clinical Social Work include:
Psychotherapy: leans more on the strength of the individual and counseling rather than medication
Counseling: a vital tool for people from all age groups
Referral: put people in contact with resources and support groups that can assist them with improving their overall quality of life
Diverse Subject Subsets of Social Work
In degree programs that focus on Clinical Social Work, you can come in contact with many diverse subjects that are drawn together in this field. It is important to have an all-inclusive set of skills when working with people from different backgrounds, socioeconomic status, and nationalities. If you feel like you could be a helpful guide for people in need of help, this is definitely a field for you to consider.
Coursework for Online MSW Programs with a Clinical Concentration
If you have previously completed a BSW program, you know what to expect in terms of course work and assignments. However, the curriculum for Clinical Social Work programs can have some new topics that were not discussed in undergraduate degree programs. The most interesting component about Clinical Social Work programs is that it includes the counseling topics as well as the therapeutic techniques and processes that are similar to counseling professionals.
Below this section, you will find a list of courses that are common to Clinical Social Work degree programs. You might be interested to find that the curriculum is quite diverse and contains some topics you might not expect to see in a Social Work degree. Read more about this below.
Skills for Social Work Practice: Personal skill such as attitude, demeanor, client interaction, and boundaries are a major portion of this course.
Diversity and Human Rights: Examines how race, ethnicity, social class, religion, and gender play a role in today's society. Encourages students to have unbiased opinions during the course of their career.
Social Policy: Introduces students to the development and change of social policies over time. Also helps students identify different resources within society that can assist with client direction.
Social Work Theory and Practice: Students can learn different approaches for working with clients in a clinical setting. They may also investigate the creation of social theories and how they are applicable in the field.
Psychopathology for Social Work: Identifies individual strengths and weaknesses that can assist with developing treatment plans. Examines how biological factors can also play a role in social functioning.
Clinical Practice in Social Work: Teaches students to use evidence-based practice as a foundation for their career. Different therapeutic skills and methods may also be discussed.
Social Work Lab: Tests a student's skills with representations of real-life scenarios and conflicts. Challenges students to better develop their clinical skills based on what has previously been learned.
Analysis and Advocacy in Social Work: Teaches students how to advocate for relevant policy changes that can affect their practice in the field. Also educates students on the various policies and how they complement or interfere with effective practice.
Human Behavior and the Social Environment: A look into the biological and natural foundations of human behavior and how it is developed and changed through interactions within the social environment.
Social Research: Focuses on the importance of research in the development and improvement of social policies and theories.
CSWE Accredited Clinical Online MSW Programs
Accredited Programs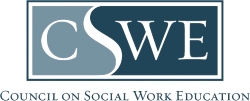 CSWE (Council on Social Work Education) is the top accrediting board for Master of Social Work programs. Below, you will find a list of all of the CSWE accredited social work programs.
Columbia University
Program: Online MSW: Advanced Clinical Practice or Social Enterprise Administration
Specialized Area: Advanced Clinical Practice or Social Enterprise Administration
Coursework: Online program with live synchronous virtual classroom delivery and asynchronous content available 24/7
Open to students anywhere the United States
CSWE Accredited
Status: Fully Online
Available: Full Time and Part Time Options
Advanced Standing
Walden University
Program: Online MSW: Advanced Clinical Practice, Military Social Work, Social Work in Health Care, and Social Work with Children and Families
Specialized Area: Advanced Clinical Practice, Military Social Work, Social Work in Health Care, and Social Work with Children and Families
Coursework: Online courses delivered asynchronously, custom video case studies, and two 4-day in-person residencies
Open to students in the US and internationally
CSWE Accredited
Status: Online with Campus Visit
Available: Part Time
Advanced Standing
Widener University
Program: Online MSW: Advanced Clinical with focus on trauma and its impact on mental health
Specialized Area: Advanced Clinical with focus on trauma and its impact on mental health
Coursework: Online program with mostly asynchronous content
Open to students anywhere in the United States, as well as service members stationed around the world
CSWE Accredited
Status: Fully Online
Available: Part Time
Catholic University of America
Program: Online MSW: Clinical
Specialized Area: Clinical
Coursework: Online program with asynchronous instruction with 24/7 access and support and no requirement for on-campus presence
Open to students anywhere in the United States, as well as service members stationed around the world
CSWE Accredited
Status:
Available: Part Time
Virginia Commonwealth University
Program: Online MSW: Clinical
Specialized Area: Clinical
Coursework:

CSWE Accredited
Status:
Available: Part Time
Advanced Standing
Fordham University
Program: Online MSW: Clinical and Community-Based Practice & Leadership
Specialized Area: Clinical and Community-Based Practice & Leadership
Coursework: Fully online program with asynchronous instruction and no campus visit required
Open to residents of New York, New Jersey, or Connecticut
CSWE Accredited
Status: Online with Campus Visit
Available: Full Time and Part Time Options
Advanced Standing
University of Tennessee at Knoxville
Program: Online MSW: Clinical or Macro (Management, Leadership, and Community Practice)
Specialized Area: Clinical or Macro (Management, Leadership, and Community Practice)
Coursework: Fully online program with no campus visit required
Open to students anywhere in the United States
CSWE Accredited
Status:
Available: Full Time and Part Time Options
Advanced Standing
Michigan State University
Program: Online MSW: Clinical Practice
Specialized Area: Clinical Practice
Coursework: Hybrid - 80% online; 20% face-to-face (annual summer institute on main campus and monthly Saturday videoconferencing at locations throughout the state)
Regular option open to students living more than 50 miles from both East Lansing and Flint campuses and within 50 miles of the state border; advanced standing option open to students living more than 50 miles from both East Lansing, Saginaw, and Oakland campuses and within 50 miles of the state border
CSWE Accredited
Status: Online with Campus Visit
Available: Part Time
Advanced Standing
Michigan State University
Program: Online MSW: Clinical Practice and Organization & Community Leadership
Specialized Area: Clinical Practice and Organization & Community Leadership
Coursework: Hybrid - 70% online; 30% face-to-face (monthly weekend in-person sessions in Lansing)
Open to all students residing in Michigan or within 50 miles of the state border
CSWE Accredited
Status: Online with Campus Visit
Available: Part Time
Rutgers University
Program: Online MSW: Clinical Social Work
Specialized Area: Clinical Social Work
Coursework: Fully online
Open to students nationwide
CSWE Accredited
Status: Fully Online
Available: Part Time
Boston University
Program: Online MSW: Clinical Social Work Practice
Specialized Area: Clinical Social Work Practice
Coursework: Asynchronous, 24/7 Class Access, taught by program faculty.
All of the US
CSWE Accredited
Status: Fully Online
Available: Part Time
Advanced Standing
University of South Florida
Program: Online MSW: Clinical Social Work Practice
Specialized Area: Clinical Social Work Practice
Coursework: Fully online with no campus visit required
Open to students in Florida, Massachusetts, and Pennsylvania
CSWE Accredited
Status: Fully Online
Available: Full Time and Part Time Options
Advanced Standing
University of Houston
Program: Online MSW: Clinical with optional emphasis in Health and Behavioral Health
Specialized Area: Clinical with optional emphasis in Health and Behavioral Health
Coursework: Hybrid weekend program (75% online; 25% face-to-face) at UH Main Campus and UH Sugar Land Campus
Eligible to residents of Texas, Louisiana, and Oklahoma who are able to travel to campus as needed
CSWE Accredited
Status: Online with Campus Visit
Available: Part Time
Advanced Standing
University of New England
Program: Online MSW: Individual, Family, & Group Practice (clinical-based) and Organizational and Community Practice (policy-based)
Specialized Area: Individual, Family, & Group Practice (clinical-based) and Organizational and Community Practice (policy-based)
Coursework: Asynchronous learning with no campus visits required
Open to students anywhere in the US and internationally
CSWE Accredited
Status: Fully Online
Available: Full Time
Advanced Standing