i
Consider a sponsored online MSW program that is taking applications for 2023.
Click to view accredited online MSW programs that are taking applications right now and for 2023.
As you make the decision to move into a Master's in Social Work program, you should consider what group within society you would most like to work with.
In a lot of communities, social workers may be well-known for intervening in instances of child abuse and neglect, as well as situations that involve mental illness and trauma. A popular MSW program for individuals interested in assisting people that have been affected by psychological illness is the MSW in Mental Health and Trauma.
Are there online options for getting an MSW in Mental Health and Trauma?
Yes. There are several programs that allow students to complete an MSW in Mental Health and Trauma online. Many programs can be completed fully online, with no in-person requirements.
How long does it take to complete an MSW in Mental Health and Trauma?
The time it takes to complete an online MSW will depend on a few factors: how many credits a student takes each semester or unit, how many total credits are required, and whether the student receives credit for having previously completed a Bachelor of Social Work degree.
Online MSWs offer multiple tracks:
The Traditional track is for students without a BSW degree, and it requires completing the full number of credits. Depending on the program, this track can often be completed in 2-3 years.
The Advanced Standing MSW track is for students who have completed a BSW degree. These students are able to get credit for previous social work classes, allowing them to complete their MSW degree in less time. Depending on the program, this track can sometimes be completed in as little as one year.
Some programs also offer an intensive Accelerated track for students who are able to devote more time to their coursework. Depending on the program, this track can sometimes be completed in as little as 16 months.
What Is an Online MSW in Mental Health and Trauma?
A Master of Social Work degree is intended to prepare future social workers for successful careers. All MSW programs include coursework covering a range of social work topics. In addition to this core curriculum, students often have the option to choose a specialized area of study. As a part of a specialization, the student will complete advanced coursework in the subject area. They may also complete a related internship or practicum at a relevant organization. Specializations generally pertain to social work practice with a particular population (such as children, Latinos, or senior adults) or with a particular problem (such as substance abuse, mental illness, or trauma).
If you are interested in pursuing an MSW focused specifically on mental health and trauma, there are three options to consider. First, you might consider an MSW program that has an overall focus on trauma or mental health. Some MSW programs have a core curriculum designed to emphasize a particular approach to social work practice. In that case, the emphasis of the program is woven throughout the core curriculum of the program. Second, you might consider an MSW program that offers the option of a specialization in mental health and/or trauma in addition to a more general core curriculum. Third, you might consider an MSW program that offers a certificate program that can be completed while pursuing an MSW. Some programs offer certificate options such as Mental Health Practice or Trauma Practice.
What a MSW in Mental Health and Trauma usually consists of
The purpose of providing such an invasive look on these factors within this degree program is to further educated students on the factors that may become more apparent when working in the field. Learning about how people are affected by these occurrences can help social work professionals make better decisions for people that are unable to make decisions due to mental illness or make wellness decisions for people that have experienced varying levels of trauma.
Click to view all online MSW programs that are currently accepting applications.
What can I expect to be included in the curriculum for an MSW in Mental Health and Trauma?
The purpose of an MSW program is to prepare future social workers. They need to be equipped to address complex problems faced by individuals and groups in a society. The core curriculum of an MSW program covers a wide range of topics: human development, social policy, justice and advocacy, clinical interventions, substance abuse, mental illness, and trauma. If a student pursues an MSW in Trauma or Mental Health, they can expect to take several advanced classes related to these two topics.
Advanced study in Mental Health will involve learning how to identify, understand, and treat mental illness. This includes conditions such as depression, anxiety, bipolar disorder, schizophrenia, phobias, and more. The study of mental illness typically involves learning about the Diagnostic and Statistical Manual of Mental Disorders (commonly known as the DSM), which is the official guide for the diagnosis of mental disorders. Finally, students will learn how to treat mental illness using evidence-based interventions.
Advanced study in Trauma will involve learning how to help people who have had traumatic experiences. That could include frightening or disturbing experiences such as violence, abuse, or a car accident. Students will learn how trauma affects the brain and body, how to recognize its symptoms, and how to support individuals who are healing from trauma. As a profession, social work emphasizes trauma-informed care, which means being mindful of the ways trauma affects individuals. When someone experiences trauma, they may develop triggers, trauma responses, and maladaptive behaviors that affect everyday life. Students in a Trauma specialization will learn how to treat the trauma with evidence-based interventions such as Cognitive Behavioral Therapy (CBT).
MSW programs typically require a practicum or internship experience where students can practice the skills they are learning in a supportive environment. Online MSW programs allow students to complete these internships in or near their own community. Often, they will assist the student in locating an appropriate internship site.
What are good traits for a social worker to possess?
One of the most important traits for a social worker to possess is empathy. Social workers are tasked with providing support to individuals and groups who have experienced suffering, injustice, and trauma. To give that support effectively, social workers need to be able to empathize with their client's experience and respond with patience and compassion, even if the client is exhibiting difficult or maladaptive behaviors.
Another important trait for social workers to possess is the ability to care for themselves and set boundaries. Because of the nature of their work, social workers often work long hours and are exposed to emotionally draining situations. To have a sustainable career and avoid burnout, social workers need to know how to care for themselves and maintain a healthy work-life balance.
Social workers spend much of their time interacting with clients, coworkers, and colleagues. For that reason, they need to possess interpersonal skills and be able to communicate effectively and professionally. Effective communication is an important part of collaborating with clients and helping them find solutions to their problems.
Social workers spend much of their time dealing with complex, multifaceted situations. They work with people whose lives are challenging and whose challenges may have many layers. Social workers need to be able to think critically about these problems and collaborate with the client to find an appropriate solution.
What types of jobs can I expect to get with an MSW in Mental Health and Trauma?
Someone with an MSW in Mental Health and Trauma would be equipped for many jobs within the social work field:
Therapist: Many social workers utilize their clinical skills through therapy with individuals and families. They draw on evidence-based practices to help clients work through the problems they are facing. These issues are often related to trauma or mental illness. Some therapists take clients from the community, while others practice in a treatment center specifically designed for individuals struggling with mental illness or substance abuse.
Medical Social Worker: Medical Social Workers work in hospitals and other healthcare settings. In these settings, social workers will encounter many people who have experienced trauma or are suffering from mental illness.
Public Policy Advocate: Some social workers use their understanding of these complex issues to advocate for policies that will better support vulnerable groups. A social worker with in-depth knowledge of mental health and trauma would have helpful insight into how policies could be improved to benefit those who are marginalized or vulnerable.
Foster Care Social Worker: All children in the foster system have experienced some form of trauma, and many also suffer from mental illness. Social workers with a background in mental health and trauma are specially equipped to provide services to these children.
What can I expect to earn as a social worker with an MSW in Mental Health and Trauma?
Healthcare Social Workers: $57,630 per year on average (BLS )
Mental Health and Substance Abuse Social Workers: $48,720 per year on average (BLS )
Child, Family, and School Social Workers: $48,430 per year on average (BLS )
Other types of social workers: $64,210 per year on average (BLS )
What are the typical admissions requirements for an MSW in Mental Health and Trauma?
The admissions requirements for each program will vary, but requirements often include:
A Bachelor's degree with a GPA of at least 3.0 (some programs allow for a lower GPA or have special exceptions for students without a Bachelor's degree)
Transcripts from previous educational institutions
Letters of recommendation
Essays (this could include a statement of purpose, statement of intent, or other essays)
Application fee
For international students, English proficiency test scores such as the TOEFL
GRE scores are sometimes required, but this depends on the program
How much does an online MSW in Mental Health and Trauma cost?
The cost of an online MSW in Mental Health and Trauma will vary depending on the program. The cost per credit can vary from $700 to $1,100. The number of credits required can vary from 57 to 81 for a traditional track and from 36 to 54 for an advanced standing track. This puts the overall full cost of tuition at anywhere between $25,000 and $60,000. Students may also be responsible for other costs such as books, fees, and housing.
Can students receive financial aid or scholarships for an online MSW in Mental Health and Trauma?
Many MSW students benefit from financial aid and scholarships that help cover tuition and other costs. Students can apply for federal financial aid by completing the Free Application for Federal Student Aid (FAFSA). They can also check with their specific program to learn more about relevant scholarships to apply for.
What accreditations are relevant to an MSW in Mental Health and Trauma?
In the United States, undergraduate and graduate-level social work programs are accredited by the Council on Social Work Education (CSWE). To receive accreditation, the school must undergo a lengthy process that evaluates the quality of their program and its curriculum.
MSW Trauma and Mental Health Coursework to Expect
Theories of Human Behavior and Development
MSW programs that focus on trauma and mental health may contain courses that can extend a student's learning into the psychological perspectives of human development. In this course, students can take a look at the relationship between behavior development and the environment, the effects of trauma on personality and behavior development and methods to encourage positive behaviors in people that have developed mal-adaptive behaviors.
Perspectives on Trauma
Studies of trauma may be dense and provide learners with new perspectives to use when working with their clients. Students taking this class may review case studies from trauma survivors in order to learn more about how they have adjusted to their lifestyles, planning programs that have been effective and services with society that can increase their success. This course can help students connect their clients with resources that can benefit their growth from traumatic experiences.
Social Work Topic Analysis
Since the field of social work can be filled with a wide variety of situations and circumstances, degree programs often try to integrate learning activities with relevant courses to help students make decisions based on individual needs. This course can provide students with specific studies in different topics of social work in order to test their abilities in program planning. Students may investigate a certain topic, research potential improvement plans and submit an idea in response to the given topic. The goal of this course is to prepare students for diverse work environments and working with diverse clients.
What Traits Are Good for Social Workers to Possess?
In the field of social work, professionals are often guided into being determined social advocates for the people that they serve. If you are considering a move into the field of social work or are simply wanting to add to your existing portfolio, you should have a willingness to adapt to social change, as well as the ability to create unique program plans for your clients.
In this field, it may be common to find that different types of individuals may require very different programming. This can make creativity an extremely important personality trait for upcoming professionals.
Professionals within the field of social work may also require a great deal of patience throughout their career. In this field, it may be commonplace to work with various agencies responsible for providing services and supports for your clients. Waiting on returned calls or for programs to be implemented can be a difficult task, unless you can engage in patience throughout the process.
Balancing a daily schedule filled with many different scenarios and responsibilities can be strenuous regardless of what type of field you work in. For social workers that have specialized in mental health and trauma, the added pressure of working with a vulnerable population can increase the need for strengths in multi-tasking and communication.
Multi-tasking skills can assist you when working with large numbers of clients at one time. Each of your clients may have different services or needs that you must address, making organization an important factor throughout the process. Communication skills can come in handy when contacting agencies for services, speaking up on your client's behalf in court or even building a relationship with the people you serve. All of these skills together can provide a solid back bone for a successful career within this field.
What types of careers and responsibilities can I expect?
Mental Health Social Worker
In mental health facilities, patients entering into treatment plans may need assistance from social workers employed to help them make the best decisions. If you take a position in this field, you can use your expertise in mental health and trauma to ensure that your clients are receiving the best care and have access to the services they need to improve their health. Professionals in these areas can work in hospitals, mental health facilities or even private organizations that provide advocacy to people diagnosed with mental illnesses.
Rehabilitation Counselor
One aspect of trauma that may often be overlooked is its effect on a person's moral development. People that experience trauma may be more likely to be involved with drug and alcohol abuse, which can be detrimental to their overall health. In the event that a person seeks help for addiction, he or she may spend some time in rehabilitation facilities in order to get themselves back on track to a healthy lifestyle. In this field, you can work with individuals that are in rehabilitation centers to help them come in contact with psychological and mental health resources, support groups and even medical support systems to address their problems.
Foster Care Case Manager
In the Children's Division of the Department of Human Services, foster care systems may be responsible for ensuring safe homes and lifestyles for children that have experienced trauma. Case managers at this level may work with children to ensure that their needs are being met, they are receiving any relevant therapy or other behavior services and partner with families during the reunification process. Having an extensive knowledge of mental health and trauma can be beneficial when working with children within this field.
How Much Does An Online MSW in Mental Health and Trauma Degree Cost?
Starting your journey towards master's-level education should begin with thoughtful and dense planning. If you are like a lot of other students considering the online MSW program, you might be interested to learn more about how much this program costs and how long it can take you to finish from start to end.
The University of Denver's current provides a great online MSW program for students with varying professional and educational backgrounds. Students that have already obtained their BSW can take advantage of an accelerated MSW program designed specifically for experienced professionals.
If you are coming from a different degree program, you can enroll in the standard online MSW program at this university, which can be completed in as little as 27 months. Students interested in taking classes at a part-time rate can complete their degree program anywhere between 2-4 years, depending on how many courses they can take at a time.
This school also provides students with information regarding tuition and fees on their website. Currently, students enrolled in the traditional online MSW program can expect to pay $947 per credit hours, which totals out to $85,230 for the entire program.
Those enrolled in the advanced standing MSW program can pay the same rate per hour, but $56,820 for the entire degree program since it contains less credit requirements for graduation. As you search through available programs, you should compare the prices of each in order to make the best financial decision.
Potential Salaries for MSW in Mental Health and Trauma Graduates and Social Workers
Mental Health and Substance Abuse Social Workers: $43,250 on average per year (BLS).
Child, Family and School Social Workers: $44,380 on average per year (BLS).
CSWE Accredited Programs
Accredited Programs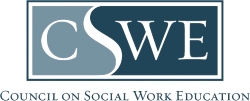 CSWE (Council on Social Work Education) is the top accrediting board for Master of Social Work programs. Below, you will find a list of all of the CSWE accredited social work programs.
Widener University
Program: Online MSW: Advanced Clinical with focus on trauma and its impact on mental health
Specialized Area: Advanced Clinical with focus on trauma and its impact on mental health
Coursework: Online program with mostly asynchronous content
Open to students anywhere in the United States, as well as service members stationed around the world
CSWE Accredited
Status: Fully Online
Available: Part Time
Temple University
Program: Online MSW: Areas of Specialist Practice: Trauma, Health/Mental Health, Children and Families, Humanitarian Social Work, and Military Social Work
Specialized Area: Areas of Specialist Practice: Trauma, Health/Mental Health, Children and Families, Humanitarian Social Work, and Military Social Work
Coursework: Mix of synchronous and asynchronous classes, with synchronous classes, advising, and group work on Tuesday and Thursday evenings
Open to students in most states
CSWE Accredited
Status: Online with Campus Visit
Available: Part Time
University of Denver
Program: Online MSW: Mental Health and Trauma
Specialized Area: Mental Health and Trauma
Coursework: Primarily asynchronous content with the exception of weekly 90-minute collaborate learning sessions
Open to students anywhere in the United States, except Delaware, Kentucky, New Jersey, and North Carolina
CSWE Accredited
Status: Fully Online
Available: Full Time
University at Buffalo (State University of New York)
Program: Online MSW: Trauma-Informed and Human Rights Perspective
Specialized Area: Trauma-Informed and Human Rights Perspective
Coursework: Fully online program with courses delivered through both asynchronous and synchronous methods
Open to students anywhere in the United States and Canada
CSWE Accredited
Status: Fully Online
Available: Part Time
Advanced Standing
Simmons College
Program: Online MSW: Clinical Social Work specialized areas in Mental Health and Substance Abuse; Child and Family Welfare; Trauma and Interpersonal Violence; and Health and Aging
Specialized Area: Clinical Social Work specialized areas in Mental Health and Substance Abuse; Child and Family Welfare; Trauma and Interpersonal Violence; and Health and Aging
Coursework: Online program with both weekly 90-minute synchronous sessions and asynchronous course work
Open to students from all states except New Hampshire and some districts in Maryland
CSWE Accredited
Status: Fully Online
Available: Full Time
Advanced Standing
Case Western Reserve University
Program: Online MSW: Community Practice & Social Change and Direct Practice (Child, Youth, & Families) or (Mental Health/Adults)
Specialized Area: Community Practice & Social Change and Direct Practice (Child, Youth, & Families) or (Mental Health/Adults)
Coursework: Online program
Open to students anywhere in the United States
CSWE Accredited
Status:
Available: Full Time and Part Time Options
Advanced Standing
University of Texas at Arlington
Program: Online MSW: Direct Practice with Children & Families and Direct Practice in Mental Health & Substance Abuse
Specialized Area: Direct Practice with Children & Families and Direct Practice in Mental Health & Substance Abuse
Coursework: Fully online program with no campus visit required
Open to Texas residents
CSWE Accredited
Status:
Available: Full Time and Part Time Options
Advanced Standing
University of Louisville
Program: Online MSW: Military Social Work (MIL); Alcohol and Drug Counseling (ADCS); Gerontology (GER); Mental Health Counseling (MH); and Psychology Oncology (ONC)
Specialized Area: Military Social Work (MIL); Alcohol and Drug Counseling (ADCS); Gerontology (GER); Mental Health Counseling (MH); and Psychology Oncology (ONC)
Coursework: Online or hybrid optionswith no campus visit required
Open to students anywhere in the United States
CSWE Accredited
Status: Fully Online
Available: Full Time and Part Time Options
Advanced Standing
Top MSW Programs
Types of Social Work Programs