i
Consider a sponsored online MSW program that is taking applications for 2023.
Click to view accredited online MSW programs that are taking applications right now and for 2023.
The field of social work can extend beyond connecting individuals with services and providing counseling. There are also specializations, such as an MSW in Human Rights, that prepare students for careers where they can address social issues, advocate for under-served groups, and create systemic change.
What Is a MSW in Human Rights?
Those with a desire to help others advocate for themselves and address large-scale social issues may be a fit for an MSW in Human Rights.
If you are seeking an online MSW program that can assist you in making a difference in society, the Human Rights specialization may be a great option to choose. Within this degree program, students can explore topics related to the fair treatment of people within society, programs that can assist in providing better opportunities to all members of a community and even advocacy issues related to protecting people during legal matters. Each of these topics is just a small part of this incredibly diverse and highly-influential field.
How does the human rights specialization compare to a regular MSW?
The MSW in Human Rights may blend some of the most critical components of both social work and human rights protection. Students enrolled in this program can gain important insight surrounding the application of social work within a professional field - especially in positions responsible for protecting the rights of the people they serve.
If you have a knack for helping others and a desire to improve current public programs throughout the United States, the MSW in Human Rights could be a life-changing degree for you to pursue.
How Much Does An Online MSW in Human Rights Degree Cost?
Before taking the dive into a MSW program in Human Rights, students should engage in extensive research about the degree program and what type of investment it might pose for the future. Most MSW programs can be found in a convenient online format, which can make for great options for upcoming college students that are working full-time or part-time jobs.
The costs of a MSW in Human Rights can be one of the main factors in your decision to pursue this degree. Many different colleges offer a wide variety of tuition rates for you to choose from, making your research extremely important in getting the best deal. The University of Buffalo current lists their tuition for the online MSW at a rate of $7,847.50 for New York residents and $12,412.50 for out of state students. Online part-time programs are billed at a rate of $736.46 for NY residents and $798.67 for non-residents.
Click to view all online MSW programs that are currently accepting applications.
Review of the University of Buffalo Online MSW Program
At the University of Buffalo, students can choose from either the traditional or online MSW program. There are currently 2 types of online MSW programs to choose from, depending on the type of experience you have in the professional field and the type of undergraduate degree you hold.
The advanced standing degree program is designed for students that have previously achieved their BSW from an accredited university and are currently licensed social workers. This program may require that students complete 35 credit hours, which can translate to about 3 full semesters for full-time students.
The advanced program may introduce students to more accelerated topics in social work, as well as those that dive deeper into case studies and analyses based on what they have experienced working in the field. The standard online MSW program may require students to complete 60 credit hours, which can take around 2 years to complete at full-time enrollment. In this program, students can take part in a progressive learning program that begins with fundamental elements of social work and finishes out with advanced topics similar to the advanced standing program.
What Traits or Characteristics Should Social Workers in this Field Possess?
In order to be the best human rights activist and social worker, you should have a strong willed personality. In many cases, human rights professionals may be responsible for standing up for the rights of the people they serve during court hearings, when seeking services and programs and even in a public forum.
Well-spoken professionals may find it easier to speak their mind and opinion in this field, which can be a big part of job roles for social workers in this domain. Social workers may be able to benefit from having these strengths in communication throughout their career, since a lot of their roles may consist of those that speak out for those that cannot and advocating for individuals in need of guidance.
Hard working and dedicated professionals may also be a great fit for this field. Defending the rights of others and staying aware of changing policies present within the field of social work may require professionals to indulge in constant research and have a general intuitive nature. If you have personality traits that are complementary to those being discussed, you could be great within this field.
Above all, social workers that are interested in working in human rights professions should have a caring demeanor towards their clients. In many social work fields, clients are often seen in situations that are lower than their best. Professionals in this field should be understanding and willing to help people – even those that have made life-changing mistakes. A general empathy for other people in society can be a helpful determinant of how well you can do within this professional field.
What types of careers and responsibilities can I expect?
Human Rights Policy Activist
Having a diverse understanding of social work and human rights can help you obtain positions that can influence the creation of new policies in society. In this career field, professionals may work with communities or even the state in modifying existing policies to meet the needs of all people. These professionals may also review current policies to ensure that none are hindering the rights of any certain group of people, so that all people are given fair access to services, programs and treatment throughout the United States.
Social Researcher
Since the policies concerning society may be constantly undergoing change, professionals may be needed to ensure that new changes and implementations are meeting human rights standards. Social researchers may work with these organizations to ensure that new changes can meet the needs of all people without hindering growth or the rights of the people being served. Social researchers may also investigate human rights claims and violations to identify any areas needing immediate change.
Client Advocacy
With a MSW in Human Rights, graduates can pursue careers associated with protecting the rights of their clients. These types of careers can be found in many different career fields, especially those associated with the law, healthcare and access to public services. In this area, you may meet with clients to determine what their interests or concerns are, locate literature that is associated with their current issues and present this information in defense of your client to the relevant organization.
Online MSW in Human Rights Courses
Evaluation in Social Work
The role of the social work professional can be undefined in terms of regular, everyday duties. This is likely due to the variation of client need, which can change the responsibilities of the professional on a day-to-day basis. This course can help students learn more about the initial evaluation process conducted when a new client has been identified. Conducting assessments, reviewing results and evaluating potential needs of the client can be an important aspect in determining which steps should take place in order to help the client improve their quality of life. Students in this course may have the opportunity to practice the evaluation process as part of the course's requirements.
Social Welfare Policy
If you are one of the many students interested in pursuing a social work career focused on human rights, you may spend a significant amount of time learning about social welfare policies, their history and implementation within current society. This course can help you learn more about why policies were developed, what situations they apply to and the constant change they need as society progresses. Students that complete this course should have a solid understanding of the applicable policies in human rights advocacy, as well as methods to modify these policies when the need arises.
Scientific Methods in Social Work
Since the field of social work is constantly improving and undergoing change, students of this discipline should have knowledge relevant to research and design. This course can help integrate knowledge of the scientific method into social research, which can allow students to provide reliable research that can change their domain for the better. In this course, students may be tasked with engaging in scientific research pertaining to their field of interest.
Online MSW in Human Rights Potential Salaries
CSWE Accredited Programs
Accredited Programs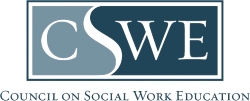 CSWE (Council on Social Work Education) is the top accrediting board for Master of Social Work programs. Below, you will find a list of all of the CSWE accredited social work programs.
University at Buffalo (State University of New York)
Program: Online MSW: Trauma-Informed and Human Rights Perspective
Specialized Area: Trauma-Informed and Human Rights Perspective
Coursework: Fully online program with courses delivered through both asynchronous and synchronous methods
Open to students anywhere in the United States and Canada
CSWE Accredited
Status: Fully Online
Available: Part Time
Advanced Standing
Top MSW Programs
Types of Social Work Programs