i
Consider a sponsored online MSW program that is taking applications for 2023.
School
Program
Admissions
University of Kentucky
Online Master of Social Work

CSWE Accredited, 100% online. Regular and Advanced Standing MSW tracks.

University of West Florida
Online Master of Social Work

CSWE Accredited, 100% online. Traditional and Advanced Standing MSW tracks.

Adelphi University
Online Master of Social Work

Online flexibility and a personalized approach. Placements near you. No GRE.

University of Southern California
Online Master of Social Work

CSWE-accredited online MSW program from USC can be completed in as few as 12 months with a BSW.

Campbellsville University
Online Master of Social Work

No GRE or GMAT required. Traditional and Advanced Standing tracks available. Program can be completed in less than a year.
Click to view accredited online MSW programs that are taking applications right now and for 2023.
Simply put, Advanced Standing MSW Programs are accelerated Master of Social Work programs for those that already hold a Bachelor of Social Work degree from a CSWE-accredited school of social work.
Some students in Master of Social Work (MSW) and Master of Science in Social Work (MSSW) programs have the opportunity to complete their degree faster than other students earning the same degree. This is due to a program called Advanced Standing. This type of program has specific entry requirements but has a number of benefits to those who are accepted.
This guide provides detailed information about the Advanced Standing MSW program, including how the program works, admission requirements, examples of courses within the program along with career and salary opportunities. If you are considering the challenging and rewarding field of social work and want to help others who are struggling, then read on to learn more about this opportunity.
What is the Advanced Standing MSW Degree Program?
MSW and MSSW programs can accept students with any number of bachelor degrees, though it is a best fit for those who have majored in a related field, such as psychology, sociology, family science and women's studies. These students, called 'traditional students' enter the program and typically complete coursework and graduate in two years, if studying full time.
The Advanced Standing MSW program is an innovative master's program. It is available in both online and in-person learning environments. It can expedite the degree process for students enrolled. This program is only available to students who have earned their Bachelor of Social Work (BSW) degree from an accredited social work program. Those with another type of degree must enter the traditional two-year MSW program.
Why look for an advanced standing MSW program if you qualify?
Basically, the Advanced Standing program rewards students who have already completed extensive study and gained practical work experience in social work. The typical first year curriculum of a traditional MSW program lays the foundation for entering the field and practicing as a professional.
Accelerate your path to a MSW degree by months if not years
Since BSW graduates have already completed this type of coursework and have already had at least 400 hours of professional work experience through their practicum placement in their bachelors program, there is no need for them to repeat this coursework in the MSW program. Thus, Advanced Standing students essentially skip the first year of the program and earn their degree in about a year, if studying full time, and in approximately two years if taking courses just part time.
What you learn in Advanced Standing Masters programs
In the Advanced Standing program, the curriculum builds upon what was learned in the BSW program. Students further develop their skills and gain additional knowledge on the theory and practice of social work, social policy, ethics, research methods, specific techniques and interventions for working with individuals and families and may have an opportunity to focus their studies on a specific topic of interest, such as addictions, mental health, gerontology or military social work.
Click to view all online MSW programs that are currently accepting applications.
Why Look for Accredited Advanced Standing Online MSW Programs?
The Council on Social Work Education (CSWE) is the only agency that vets and determines if a school of social work has met their strict requirements and demonstrates that they are providing top-notch education and support for students that will best prepare them to enter the field as qualified and prepared social work practitioners. Attaining accreditation is a long and detailed process, and that accreditation must be renewed every few years. This means programs who have received accreditation and want to continue being accredited must continually provide superior education and opportunities for their students. These programs are the best of the best.
Another reason why you should attend an accredited school of social work is related to your future career aspirations. Many social workers want to provide therapeutic interventions for clients and/or become licensed to open their own private therapy practice. If this is the case, note that most state licensing boards will only recognize MSW degrees earned from an accredited program. If your MSW is from an unaccredited program, then you could not apply to be a Licensed Clinical Social Worker (LCSW) in that state. So if having a private practice is your goal, be sure to apply only to accredited programs for your Advance Standing Online MSW degree, so you will not have to worry about this requirement down the road.
What Type of Personality Traits Are Preferred in Social Work Careers?
The field of social work can be demanding. It is important to consider your interests and inherent personality traits to determine if this profession is a good fit for you. If you have a number of the below traits, social work may be a great career option.
Empathetic
Social work requires a great deal of caring and empathy, with a desire to help those who are struggling. A desire to fight for justice is also critical, as you may serve as a voice to advocate for your client's needs and to change unfair policies or practices.
Work-life balance
Since a number of clients may be experiencing difficult life circumstances or be in dire need of support, you should also have the skills to detach from your work after hours and practice self-care. Without this, the burden of hearing heartbreaking stories day in and day out can take both a mental and emotional toll on social workers. It is important to set boundaries and "leave work at work" in order to sufficiently rest and recuperate to head back into the same environment the following day.
Boundaries
Setting healthy boundaries with clients is also critical. Since clients may be emotionally vulnerable as they share traumatic or difficult stories of their life, and having a caring professional respond to them and assist with their struggles may help them feel better and overcome obstacles, some clients may misunderstand the role of the social worker and begin seeing you as a friend. Having boundaries to establish your role in the helping relationship is important so that expectations are clear.
Communication
Communication is of utmost importance. Social workers need to actively listen to their clients to fully understand what is being said, both verbally and non-verbally. Social workers also need to communicate clearly both in speaking and writing to ensure clients and other service providers easily understand expectations and next steps in their treatment plan.
Patience
Patience is something that successful social workers seem to have in abundance. They realize that dealing with government agencies, other social service providers and even clients who may sometimes appear to lack motivation to change their situation can take a long time and can be frustrating. Having the ability to "roll with it" and face challenges head on without losing passion or commitment makes the job much easier for social workers.
Creativity
Finally, creativity and organization are two additional traits that are helpful for those considering a career in social work. Government agencies and other social service programs each have varying levels of red tape and specific hoops that must be jumped through in order to serve a client. It helps if a social worker can think creatively about how to get their client's needs met, if current efforts have been stalled or hit a wall. Organization helps social workers keep information on each client separated appropriately and helps the social worker to become less overwhelmed when dealing with a large caseload of clients.
If you are the type of person that loves to help others, social work may definitely be a field for you to consider. This field is perfect for hard-working and dedicated professionals interested in finding resources for families in need, individuals that have been diagnosed with mental health disorders, and vulnerable populations including children, prisoners and the elderly.
How Much Time and Money Can The Advanced Standing MSW Degree Cost?
Social work professionals that have already completed their BSW and have experience in the field may debate whether or not moving forward into a master's program can really be worth the time and money. Before you look into programs or make any decisions regarding furthering your education, you should consider what type of investment you will be making to achieve your goal.
The primary advantage of an Advanced Standing MSW program is that it expedites the process to earn your MSW in approximately one year if attending full time, or around two years if attending school part time. This reduces the amount of both time and money needed to complete the program and graduate, when compared to traditional students.
Take for example, the reputable and nationally-ranked University of Louisville in Louisville, Kentucky, which offers an Advanced Standing Online MSSW for qualified applicants. At the University of Louisville, Advanced Standing students complete 30 credit hours within 2-5 semesters.
Tuition at the University of Louisville is $752 per credit hour. Thus, the tuition cost for the Advanced Standing Online MSSW program is $22,560. Compare this to the $45,120 that traditional students must pay for the same degree, the difference is staggering.
Reducing the time-frame to complete the degree by a year and paying half the amount certainly makes the Advanced Standing Online MSSW program worth it!
Note that this does not include any fees that may be assess in addition to tuition costs. Before selecting an online MSW program, it is important to confirm tuition and all fees in order to have a better idea of what you'll pay for the degree.
What are the Admission Requirements for Advanced Standing Online MSW Programs?
As previously stated, the primary requirement for gaining admission to an Advanced Standing program is having earned the BSW degree from an accredited program, often within the previous five to ten years. If your bachelor's degree is in any other field besides social work, you are not eligible for this program. Other typical admissions requirements for Advanced Standing Online MSW programs include:
An average Grade Point Average (GPA) of 3.0 out of a 4.0 scale. Some schools require that all social work classes have earned a grade of B or better.
A resume to demonstrate your professional experience
Letters of recommendation by past professors or employers that can speak to your ability to successfully complete graduate level coursework and serve future clients in a professional and ethical manner
Admissions essays and a personal statement. This demonstrates to the admissions committee that you can write at a graduate school level, demonstrating your achievements and describing your career aspirations.

Some programs have additional requirements, including Graduate Record Exam (GRE) scores. Some prefer, though may not require, two years of related work experience post-BSW. Again, carefully check the requirements of the programs in which you're interested to determine if they have any other admissions requirements.

Advanced Standing MSW Coursework to Expect

Human Behavior and the Social Environment

Human behavior can be influenced and impacted by a number of factors, including environment, community, health, and history (along with current practices) of oppression and discrimination. Social work professionals may regularly work with clients from diverse backgrounds, living in very different communities throughout their region. It is important for professionals to have knowledge about human behavior across the lifespan and how behavior can be influenced by a number of factors. Using comparative knowledge about human behavior can help social workers notice trends and habits that can be holding a client back from their fullest potential. This course may help students explore these correlations in order to develop more effective interventions for their clients.

Social Work Theory and Practice

Theories of human behavior and effective social work interventions are continually evolving as a result of ongoing research within social work. MSW level courses in social work theory and practice cover the history of the primary theories of the profession, how they were developed and how they can be applied to the various situations in which social work clients find themselves.

Research Methods

The only way to definitively know how and why certain interventions are effective or ineffective is by conducting research. Social work practice affects research by developing questions that need answering, and research affects social work practice by studying the issue in question and applying what has been learned to improve the field. MSW students will learn basic research design and implementation, along with general statistics to analyze the data that is collected.

Ethics

Social work is a field affected by ethical decisions on many levels on a daily basis. Social workers must act in an ethical manner in every facet of their professional lives. In fact, there is a Code of Ethics for the profession that all social workers must follow. Courses on ethics provide an opportunity for students to read about scenarios they may face as a practitioner, assess their own values and responses and discuss with classmates and professors about the correct ethical response.

Field Experience/Practicum

Students gain hands-on work experience in a practicum setting, further preparing them for their career. Students must complete up to 1000 hours of practicum at a local social service agency for their MSW degree. A benefit of earning an online degree is that oftentimes, a practicum placement can be made in the student's local community or nearby. In some cases, if an MSW student is also working full time in a community organization, they can complete their practicum hours at their place of employment.

Social Work Policy

Policies can help or harm a client's ability to be self-sufficient, and can also help or make it more difficult for social workers to do their jobs and serve their clients. Courses on policy cover how policies are developed and assessed, how landmark policies have affected individuals and communities, and the process for changing existing policies at a local and national level.

Supervision and Leadership in Social Work Organizations

Students may be curious about what is required of management professionals within the field. This type of course can help students learn more about the roles of supervisors within social services, including effective decision making,leadership, and effectively managing staff and teams.

What Types of Careers and Responsibilities Can I Expect?

Advanced standing MSW program have been developed for those seeking to advance in their career. Fewer jobs are available with only a BSW degree, and the salary can quickly become stagnant at that level. Social workers with an MSW have many more options to work with whatever population, environment or condition that is most interesting to them. Social workers can be found in nonprofit organizations, schools, prisons, hospitals and many other settings. Also, as previously discussed, earning the MSW degree is the first step in becoming a Licensed Clinical Social Worker (LCSW).

Those that are interested in pursuing more supervisory positions may seek out opportunities to provide leadership. Those that want to focus on research or teaching may decide to return to school for their Ph.D. Take a look at a few interesting career choices and their responsibilities that could potentially be obtained after earning your MSW degree.

Social Work Management

In fields that provide social services to the public, social workers may be overwhelmed with large caseloads. Social work managers may provide support and guidance to their caseworker employees that are working face-to-face with clients. Social work managers may be responsible for overseeing the work of social work professionals, reviewing case files for accuracy and even managing finances and projects set forth by your agency.

Social Policy Review/Improvement

Professionals in this arena may work for state agencies or even the U.S. Government. The job responsibilities for professionals at this level may include recognizing weak areas in social policy, providing planning for policy change and implementing changes that can assist in providing better social services to various populations within society.

Medical Social Worker

Social workers in healthcare have a variety of responsibilities in serving their patients and offering services to their family members. Tasks that medical social workers complete include assessment of needs, patient education about their medical condition and how it may impact their life, providing referrals for relevant programs and services, and discharge planning.
Advanced Standing MSW Associated Salaries
The Advanced Standing MSW for Professional Advancement
One of the common reasons why BSW holders decide to move forward into a masters-level program is to advance to higher positions within their current job. A lot of professionals in the field of social work may find that they have greater needs or desire for their career that cannot be achieved at their current degree level.
Holding a Masters in Social Work could potentially open doors in leadership positions, as well as advanced positions within the social work arena. Completion of this degree program can be a great component in meeting the qualifications for the career you desire.
During the course of your degree program, you may also take courses that can increase your strengths and awareness in social work leadership, which can be a great addition to a resume for management positions throughout your career. Paired with experience as a social worker, your MSW degree can help you land opportunities unavailable at the bachelors level.
Earning an MSW degree opens the doors for more career opportunities and better salaries for those wanting to work in social work, helping vulnerable populations and improving their lives. An Advanced Standing program allows students to reduce the time necessary to complete their degree and costs less than a traditional, two-year MSW program. If you have a BSW degree, then applying to a program that offers Advance Standing to qualified students is the way to go. You'll spend less to earn your degree and be finished in about half the time, allowing you to enter the field with a new job, better salary and more opportunities.
CSWE Accredited Advanced Standing MSW Programs
Accredited Programs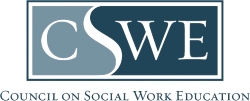 CSWE (Council on Social Work Education) is the top accrediting board for Master of Social Work programs. Below, you will find a list of all of the CSWE accredited social work programs.
Columbia University
Program: Online MSW: Advanced Clinical Practice or Social Enterprise Administration
Specialized Area: Advanced Clinical Practice or Social Enterprise Administration
Coursework: Online program with live synchronous virtual classroom delivery and asynchronous content available 24/7
Open to students anywhere the United States
CSWE Accredited
Status: Fully Online
Available: Full Time and Part Time Options
Advanced Standing
Walden University
Program: Online MSW: Advanced Clinical Practice, Military Social Work, Social Work in Health Care, and Social Work with Children and Families
Specialized Area: Advanced Clinical Practice, Military Social Work, Social Work in Health Care, and Social Work with Children and Families
Coursework: Online courses delivered asynchronously, custom video case studies, and two 4-day in-person residencies
Open to students in the US and internationally
CSWE Accredited
Status: Online with Campus Visit
Available: Part Time
Advanced Standing
Indiana University
Program: Online MSW: Advanced Generalist
Specialized Area: Advanced Generalist
Coursework: Online program
Open to students anywhere in the United States
CSWE Accredited
Status: Fully Online
Available:
Advanced Standing
Campbellsville University
Program: Online MSW: Advanced Generalist
Specialized Area: Advanced Generalist
Coursework: Online program with no campus visit required
Open to residents of Kentucky and surrounding states
CSWE Accredited
Status: Fully Online
Available: Full Time and Part Time Options
Advanced Standing
University of Maine
Program: Online MSW: Advanced Generalist
Specialized Area: Advanced Generalist
Coursework: Courses taught through Blackboard and AdobeConnect
Open to residents of Maine
CSWE Accredited
Status: Online with Campus Visit
Available: Full Time
Advanced Standing
University of Wyoming
Program: Online MSW: Advanced Generalist
Specialized Area: Advanced Generalist
Coursework: Hybrid program (video, online, and in-person)
Primarily serving Wyoming studnets
CSWE Accredited
Status: Online with Campus Visit
Available: Full Time
Advanced Standing
University of Alaska at Anchorage
Program: Online MSW: Advanced Generalist
Specialized Area: Advanced Generalist
Coursework: Online program with two required campus visits to Anchorage campus
Open only to students living in Alaska
CSWE Accredited
Status: Online with Campus Visit
Available: Full Time and Part Time Options
Advanced Standing
University of Nevada, Reno
Program: Online MSW: Advanced Generalist
Specialized Area: Advanced Generalist
Coursework: Predominantly asynchronous courses with limited synchronous options in practice and field classes
Open to students anywhere in the United States
CSWE Accredited
Status: Online with Campus Visit
Available: Full Time and Part Time Options
Advanced Standing
Colorado State University
Program: Online MSW: Advanced Generalist
Specialized Area: Advanced Generalist
Coursework: Hybrid program model (80% online and 20% in-person at cohort location in Colorado Springs or Denver)
Open to students anywhere in the world
CSWE Accredited
Status: Online with Campus Visit
Available: Part Time
Advanced Standing
Florida State University
Program: Online MSW: Advanced Standing program for those with a BSW or a Traditional program for those with a bachelor's in another area of study.
Specialized Area: Advanced Standing program for those with a BSW or a Traditional program for those with a bachelor's in another area of study.
Coursework: Asynchronous instruction via the Internet

CSWE Accredited
Status:
Available: Part Time
Advanced Standing
Virginia Commonwealth University
Program: Online MSW: Clinical
Specialized Area: Clinical
Coursework:

CSWE Accredited
Status:
Available: Part Time
Advanced Standing
Fordham University
Program: Online MSW: Clinical and Community-Based Practice & Leadership
Specialized Area: Clinical and Community-Based Practice & Leadership
Coursework: Fully online program with asynchronous instruction and no campus visit required
Open to residents of New York, New Jersey, or Connecticut
CSWE Accredited
Status: Online with Campus Visit
Available: Full Time and Part Time Options
Advanced Standing
University of Tennessee at Knoxville
Program: Online MSW: Clinical or Macro (Management, Leadership, and Community Practice)
Specialized Area: Clinical or Macro (Management, Leadership, and Community Practice)
Coursework: Fully online program with no campus visit required
Open to students anywhere in the United States
CSWE Accredited
Status:
Available: Full Time and Part Time Options
Advanced Standing
Michigan State University
Program: Online MSW: Clinical Practice
Specialized Area: Clinical Practice
Coursework: Hybrid - 80% online; 20% face-to-face (annual summer institute on main campus and monthly Saturday videoconferencing at locations throughout the state)
Regular option open to students living more than 50 miles from both East Lansing and Flint campuses and within 50 miles of the state border; advanced standing option open to students living more than 50 miles from both East Lansing, Saginaw, and Oakland campuses and within 50 miles of the state border
CSWE Accredited
Status: Online with Campus Visit
Available: Part Time
Advanced Standing
Boston University
Program: Online MSW: Clinical Social Work Practice
Specialized Area: Clinical Social Work Practice
Coursework: Asynchronous, 24/7 Class Access, taught by program faculty.
All of the US
CSWE Accredited
Status: Fully Online
Available: Part Time
Advanced Standing
University of South Florida
Program: Online MSW: Clinical Social Work Practice
Specialized Area: Clinical Social Work Practice
Coursework: Fully online with no campus visit required
Open to students in Florida, Massachusetts, and Pennsylvania
CSWE Accredited
Status: Fully Online
Available: Full Time and Part Time Options
Advanced Standing
Simmons College
Program: Online MSW: Clinical Social Work specialized areas in Mental Health and Substance Abuse; Child and Family Welfare; Trauma and Interpersonal Violence; and Health and Aging
Specialized Area: Clinical Social Work specialized areas in Mental Health and Substance Abuse; Child and Family Welfare; Trauma and Interpersonal Violence; and Health and Aging
Coursework: Online program with both weekly 90-minute synchronous sessions and asynchronous course work
Open to students from all states except New Hampshire and some districts in Maryland
CSWE Accredited
Status: Fully Online
Available: Full Time
Advanced Standing
University of Houston
Program: Online MSW: Clinical with optional emphasis in Health and Behavioral Health
Specialized Area: Clinical with optional emphasis in Health and Behavioral Health
Coursework: Hybrid weekend program (75% online; 25% face-to-face) at UH Main Campus and UH Sugar Land Campus
Eligible to residents of Texas, Louisiana, and Oklahoma who are able to travel to campus as needed
CSWE Accredited
Status: Online with Campus Visit
Available: Part Time
Advanced Standing
Case Western Reserve University
Program: Online MSW: Community Practice & Social Change and Direct Practice (Child, Youth, & Families) or (Mental Health/Adults)
Specialized Area: Community Practice & Social Change and Direct Practice (Child, Youth, & Families) or (Mental Health/Adults)
Coursework: Online program
Open to students anywhere in the United States
CSWE Accredited
Status:
Available: Full Time and Part Time Options
Advanced Standing
University of Texas at Arlington
Program: Online MSW: Direct Practice with Children & Families and Direct Practice in Mental Health & Substance Abuse
Specialized Area: Direct Practice with Children & Families and Direct Practice in Mental Health & Substance Abuse
Coursework: Fully online program with no campus visit required
Open to Texas residents
CSWE Accredited
Status:
Available: Full Time and Part Time Options
Advanced Standing
Our Lady of the Lake University
Program: Online MSW: Direct practice with Hispanic Children and Families
Specialized Area: Direct practice with Hispanic Children and Families
Coursework: Fully online program with no campus visit required
Open to students from all US States except Delaware, all US territories, and all US military bases overseas
CSWE Accredited
Status: Fully Online
Available: Full Time and Part Time Options
Advanced Standing
University of Texas of the Rio Grande Valley
Program: Online MSW: Direct Practice with Individuals, Families, and Groups and Community and Administrative Practice
Specialized Area: Direct Practice with Individuals, Families, and Groups and Community and Administrative Practice
Coursework: Fully online program with no campus visit required
Open to residents of Texas and other states with which UTRGV has agreements
CSWE Accredited
Status:
Available: Full Time and Part Time Options
Advanced Standing
Edinboro University of Pennsylvania
Program: Online MSW: Family Social Work Practice
Specialized Area: Family Social Work Practice
Coursework: Online program
Open to students anywhere in the United States
CSWE Accredited
Status: Fully Online
Available: Full Time
Advanced Standing
University of New England
Program: Online MSW: Individual, Family, & Group Practice (clinical-based) and Organizational and Community Practice (policy-based)
Specialized Area: Individual, Family, & Group Practice (clinical-based) and Organizational and Community Practice (policy-based)
Coursework: Asynchronous learning with no campus visits required
Open to students anywhere in the US and internationally
CSWE Accredited
Status: Fully Online
Available: Full Time
Advanced Standing
Boise State University
Program: Online MSW: Individuals and Families
Specialized Area: Individuals and Families
Coursework: Mostly Asynchronous, with the exception of practice and field seminar courses
Most of the US
CSWE Accredited
Status: Fully Online
Available: Full Time and Part Time Options
Advanced Standing
University of Louisville
Program: Online MSW: Military Social Work (MIL); Alcohol and Drug Counseling (ADCS); Gerontology (GER); Mental Health Counseling (MH); and Psychology Oncology (ONC)
Specialized Area: Military Social Work (MIL); Alcohol and Drug Counseling (ADCS); Gerontology (GER); Mental Health Counseling (MH); and Psychology Oncology (ONC)
Coursework: Online or hybrid optionswith no campus visit required
Open to students anywhere in the United States
CSWE Accredited
Status: Fully Online
Available: Full Time and Part Time Options
Advanced Standing
University of Arkansas
Program: Online MSW: Multi-System Life Course
Specialized Area: Multi-System Life Course
Coursework: Online asynchronous program augmented by pre-scheduled webcasting
Open to students anywhere in the United States
CSWE Accredited
Status: Fully Online
Available:
Advanced Standing
Salisbury University
Program: Full-time Online MSW: Practice with Individuals, Families, Groups, and Organizations
Specialized Area: Practice with Individuals, Families, Groups, and Organizations
Coursework: Fully online program with both synchronous and asynchronous components
Open to residents of Maryland, West Virginia, Virginia, District of Columbia, and Pennsylvania
CSWE Accredited
Status: Fully Online
Available: Part Time
Advanced Standing
Salisbury University
Program: Part-time Online MSW: Practice with Individuals, Families, Groups, and Organizations
Specialized Area: Practice with Individuals, Families, Groups, and Organizations
Coursework: Interactive television, in-class sessions, and online technology
Open to any students able to travel to the sattelite locations
CSWE Accredited
Status: Online with Campus Visit
Available: Part Time
Advanced Standing
Humboldt State University
Program: Online MSW
Specialized Area: Program emphasizes work with Indigenous and rural communities with a particular commitment to Decolonizing Social Work and mindfulness-based practice
Coursework: Distributed Learning methodologies (online discussions, video conferencing, chats, web tours, small group work, shared projects, virtual role plays)

CSWE Accredited
Status: Online with Campus Visit
Available: Part Time
Advanced Standing
Western Kentucky University
Program: Online MSW: Rural Advanced Generalist
Specialized Area: Rural Advanced Generalist
Coursework: Synchronous and asynchronous online instructional formats

CSWE Accredited
Status: Online with Campus Visit
Available: Part Time
Advanced Standing
University at Buffalo (State University of New York)
Program: Online MSW: Trauma-Informed and Human Rights Perspective
Specialized Area: Trauma-Informed and Human Rights Perspective
Coursework: Fully online program with courses delivered through both asynchronous and synchronous methods
Open to students anywhere in the United States and Canada
CSWE Accredited
Status: Fully Online
Available: Part Time
Advanced Standing
Western New Mexico University
Program: Online Master of Social Work
Specialized Area:
Coursework: Courses taught online and via Poly-com (similar to Skype)
Open to students anywhere in the United States
CSWE Accredited
Status:
Available: Part Time
Advanced Standing
Louisiana State University
Program: Online Master of Social Work
Specialized Area:
Coursework: Asynchronous 7-week modules with six start dates per year (two start dates for advanced standing)
Open to students anywhere in the United States except Delaware; Washington, DC; Kentucky; Massachusetts; New York; and North Carolina
CSWE Accredited
Status: Fully Online
Available: Full Time and Part Time Options
Advanced Standing
Texas State University
Program: Online Master of Social Work
Specialized Area:
Coursework: Online program, augmented by Webcasting and periodic face-to-face skills institutes
Priority given to applicants who reside more than 50 miles from an accredited MSW program
CSWE Accredited
Status: Online with Campus Visit
Available: Full Time
Advanced Standing
University of Alabama
Program: Online Master of Social Work
Specialized Area:
Coursework: Primarily online program
Open to students anywhere in the United States; however students will be required to participate in face-to-face skills labs held on selected Saturdays at regionally convenient locations across the state of Alabama and field placements will be within a 200-mile radius of Tuscaloosa, AL
CSWE Accredited
Status: Online with Campus Visit
Available: Full Time and Part Time Options
Advanced Standing
University of Central Florida
Program: Online Master of Social Work
Specialized Area:
Coursework: Primarily asynchronous online delivery with some synchronous components
Open to students in all states except DC, ID, IA, KY, ME, MD, MI, NV, NH, NC, OH, OK, OR, PR, and TN
CSWE Accredited
Status: Online with Campus Visit
Available: Part Time
Advanced Standing
Top MSW Programs
Types of Social Work Programs