i
Consider a sponsored online MSW program that is taking applications for 2023.
Click to view accredited online MSW programs that are taking applications right now and for 2023.
If you are a social work student interested in making a difference in any community, an online MSW program focused on Substance Abuse could be your first step in doing great things throughout the course of your social work career.
There are many options for how you may use an MSW in Substance Abuse degree upon receiving it. It can be important to consider what interests you in this field, what types of skills you have to offer, and the populations you think you could influence the most.
What is an Online MSW in Substance Abuse Degree?
An MSW in Substance Abuse is a specialized type of Master of Social Work degree that allows you to work with populations struggling with addiction. These populations may have co-occurring mental health issues and needs such as housing and government assistance. Once you have determined that these populations consist of the type of people you wish to work with, you can seek an MSW in Substance Abuse program that is suitable for you.
An online MSW in Substance Abuse program means that learning takes place on the Internet rather than in person. An online program can be a great choice for students looking for the convenience of being able to access classes from anywhere. It can also be a great choice for students who may need accommodation due to other responsibilities.
Online MSW programs in Substance Abuse teach the same material as in-person programs. They provide education around the widespread nature of addiction issues. They also provide education around the impact of substance abuse on children and families, ways rehabilitation can assist those in need, and how working in this area may improve society overall. If you have a strong desire to implement change on a personal and systemic level, an online MSW in Substance Abuse could be an excellent way to start your career.
What You Learn in a Substance Abuse MSW Program
An online MSW in Substance Abuse is a degree program that consists of multiple topics associated with providing support to the public. The courses facilitate learning in clinical assessment, addiction psychology, family studies, and supportive programs that are available to those struggling with substance abuse.
Many online MSW in Substance Abuse programs also incorporate the legal system's influence on the field. This influence can include a direct impact on the lives of those struggling with substance abuse, addiction programs and policies, and legal data pertaining to relevant issues. An online MSW in Substance Abuse degree may provide social workers the tools needed to support in changing policies that affect their clients.
The fundamental elements necessary for success in the field can be taught in accredited online MSW in Substance Abuse programs. Students who complete the program could be ready to begin working with their target populations right away.
Click to view all online MSW programs that are currently accepting applications.
What Kinds of Traits Transfer Well To Social Work?
Working with people that struggle with substance abuse can require a capacity to handle difficult situations and dedication to the end result. If you feel drawn to this field, it may be important to weigh your interest against the challenges of the population. This could help to ensure you are choosing the right degree program.
Social workers in the substance abuse field can be employed to work with clients at various stages of acceptance of their addiction. Patience and understanding at an above average level may be needed in these situations. Spending time with clients to build awareness around their addiction can be a long process, although the results are often rewarding.
Substance abuse issues can also lead people into legal trouble. Social workers in the substance abuse field may need to make court appearances on behalf of their clients. These appearances often include attesting to a client's progress and informing the court of treatment plan goals. Organization skills for keeping up with a high volume of clients, appointment dates, and court appearances can be helpful.
A desire to engage in continuing education may also be of benefit. Professionals in substance abuse are encouraged to remain trauma-focused. This indicates the need for education in trauma, trauma-informed practices, and the role trauma plays in addiction. It is common for those struggling with substance abuse to have experienced trauma throughout their lives.
Knowledge and skills in each of the above areas could help professionals make decisions regarding treatment plans and courses of action for clients. Listening skills, compassion, and psychoeducation allow for increased positive results for those being served. They can also allow social workers to better focus on client strengths in order to build self-esteem and confidence.
MSW Coursework to Expect
Group Work with Diverse Populations
In MSW programs that are focused on substance abuse, students may learn about working with groups of clients in a rehabilitation setting. These clients could be from different cultures and backgrounds. Research shows that learning how you can show up for diverse clients is important in treating substance abuse disorders. Students can develop skills in communicating effectively and without judgement. Students can also gain knowledge in the areas of protecting client privacy, building trust with those they serve, and honoring client heritage. This course may enhance comprehension of group work as a whole, as well as of the benefits group work can provide.
Alcohol and Drugs in Social Work Practice
The substance abuse field is highly specialized and may require unique considerations from those involved. This course can outline the challenges presented to social workers in substance abuse, especially those concerning the mind-altering effects of alcohol and drugs on their clients. Health impacts, memory, coordination, and legal ramifications may be some of the topics discussed. In completing this course, students can develop a general outlook on the substance abuse epidemic in the United States. Students can also learn about the improvement initiatives introduced by the United States government.
Perspectives on Addiction and Mental Illness
Students enrolled in this course can learn more about the theoretical perspectives concerning addiction and mental illness in the United States. Historical data pertaining to addiction studies, current statistics, and information regarding genetic addiction issues may be presented. Students may also gain knowledge in substance abuse services available to the public. The purpose of this course is to provide students with an understanding of the root causes of substance abuse issues, as well as how to provide support to those in their care.
Therapy Modalities for Substance Abuse
Certain therapy modalities are often suggested for use with substance abuse more frequently than others. In this course, students can learn which ways of practicing therapy could be most useful with their clients. Cognitive-Behavioral Therapy (CBT) may be introduced as one way to work with those struggling with substance abuse. As CBT has been shown through research to provide symptom reduction, it is taught in a variety of MSW in Substance Abuse programs. Motivational Interviewing (MI) and the Community Reinforcement Approach (CRA) are also commonly introduced.
Human Behavior and the Social Environment
Human Behavior and the Social Environment (HBSE) is a core course in many MSW programs. This course provides an understanding of how people are influenced by the settings in which they live. Classes discuss family, community, and systemic factors as parts of what contribute to a person's well-being. Classes also discuss how disruptions in these areas can cause people to develop mental health challenges. Students enrolled in an MSW in Substance Abuse program can benefit from this piece of the curriculum due to the large influence of environment on addiction.
How Much Does an Online MSW in Substance Abuse Degree Cost?
Your choice of MSW program can be a factor in how much money is spent achieving the degree. Students seeking the best deal for their education are encouraged to research several schools prior to making their decision. This is due to each school offering a different price and different scholarship opportunities for their program.
Students with undergraduate degrees in social work or a significant amount of experience in the social work field may be able to take advantage of accelerated programs. Research on accelerated programs can be done in order to help you make an informed choice. Our team of education experts has provided some information regarding the Simmons College MSW program below:
Simmons College is one of the leading MSW programs and providers of MSW degrees in the United States. Simmons College offers online MSW programs to students interested in focusing on substance abuse and mental illness.
There are three educational path options for the Simmons College online MSW. Simmons College offers an accelerated options for BSW holders, a full time option, and a part time option for those who are also working. The accelerated option allows students to complete their degree in as little as 15 months. All options require 1,120 hours of field instruction prior to graduation.
The costs for the full and part time Simmons College MSW programs are based on 65 credit hours, which is the typical requirement for graduation. The cost for the accelerated program is based on the adjusted requirement of 37 credit hours. Simmons College bills $1,110 per credit hour. This totals $72,150 for the full and part time options and $41,070 for the accelerated option.
You may find that other programs have different costs and course requirements. Before committing to a program, you may want to take time to consider the financial and time commitment. Financial aid resources such as student loans and employee reimbursement programs could be available. Contacting schools and your employer can assist in finding out what types of aid you may qualify for.
What Accreditation to Look for in an Online MSW in Substance Abuse Program
A Council on Social Work Education (CSWE) accreditation could indicate that an online MSW in Substance Program meets the standards for education in the field. This accreditation may define preparation for employment as a social worker and ensure competence. The pathway to achieving CSWE accreditation can be made up of multiple steps, including site visits and program self-studies. Recent statistics reflect 542 accredited baccalaureate social work programs and 309 accredited master's social work programs.
View this page for the best online MSW programs that are CSWE accredited. Programs with CSWE accreditation also routinely list this information on their website. These programs are also listed on the CSWE website and on Online MSW Degrees.
What Are the Requirements for Admission to an Online MSW in Substance Abuse Program?
The requirements for admission to an online MSW in Substance Abuse Program may vary between schools. There are several factors that can be consistent, including GPA strength and lack of requiring the Graduate Record Examinations (GRE). Schools generally look for a minimum 3.0 GPA and request grades from an undergraduate degree rather than GRE testing.
Helpful advice on applying to an online MSW in Substance Abuse Program can come from looking at the University of Texas at Arlington's (UTA) application requirements. An application for an MSW at UTA most often includes a minimum 3.0 GPA, which is calculated through your undergraduate transcripts. Undergraduate coursework can be expected to be around 60 credit hours. The GRE may also not be required. Early application is suggested, although UTA can operate on flexible admissions dates.
Students applying to online MSW in Substance Abuse programs could find that multiple schools offer flexible admissions dates. Due to the nature of the curriculum in many programs, it can be easier to be accepted on a less strict deadline. A Bachelor's in Social Work (BSW) may not be needed since it is common for students to transfer to social work from other fields.
A factor you could need to be aware of when applying to online MSW in Substance Abuse is application fees. Application fees can range from no fee to $100, and it could be important to account for this when submitting applications to multiple schools. There are circumstances in which prospective students may write to a school to have the application fee waived. These circumstances include unexpected life events and financial hardship.
What types of careers and responsibilities can I expect?
Rehabilitation Services: Those who struggle with substance abuse can find themselves in rehabilitation facilities. Here, they may work on finding solutions or alternatives to their current behaviors and problems. Social workers in these facilities may work with them to discover services in the community that can help them stay on track when integrating back into society. Rehabilitation services may also include follow-ups that provide long-term support to those struggling with substance abuse. These follow-ups can take the form of group meetings, drug testing, and legal advocacy.
Probation Services: If people struggling with substance abuse are facing legal issues, social workers can assist by ensuring that they meet all of the recommendations of their probation. Social workers in this field may partner with probation agencies or provide services through non-profit agencies. Meeting with clients as they progress through their probationary period can be a focus of social workers. This ensures that clients are receiving recommended services and staying with their goal of remaining substance-free.
Family Services: A large number of children in the foster care system are there due to parents struggling with substance abuse. Social workers in the substance abuse field can partner with family services to work with parents in seeking support for their addiction issues. Locating therapy, working on parenting skills, and finding meaningful hobbies and careers can be helpful to parents seeking reunification with their children. Social workers may also be required to provide legal testimony on their client's progress during custody trials.
Mental Health Services: Access to mental health services may make a difference in the lives of those struggling with substance abuse. Therapy, support groups, and crisis intervention can assist people in finding coping skills and sticking to their recovery. Social workers may be employed as substance abuse counselors in this field, often meeting with clients one-on-one to develop treatment plans. Social workers with proper licensure may be also employed as therapists who are permitted to work in modalities such as CBT.
Potential Salaries for Online MSW in Substance Abuse Graduates
CSWE Accredited Programs
Accredited Programs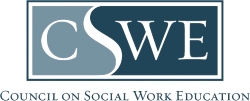 CSWE (Council on Social Work Education) is the top accrediting board for Master of Social Work programs. Below, you will find a list of all of the CSWE accredited social work programs.
Simmons College
Program: Online MSW: Clinical Social Work specialized areas in Mental Health and Substance Abuse; Child and Family Welfare; Trauma and Interpersonal Violence; and Health and Aging
Specialized Area: Clinical Social Work specialized areas in Mental Health and Substance Abuse; Child and Family Welfare; Trauma and Interpersonal Violence; and Health and Aging
Coursework: Online program with both weekly 90-minute synchronous sessions and asynchronous course work
Open to students from all states except New Hampshire and some districts in Maryland
CSWE Accredited
Status: Fully Online
Available: Full Time
Advanced Standing
University of Texas at Arlington
Program: Online MSW: Direct Practice with Children & Families and Direct Practice in Mental Health & Substance Abuse
Specialized Area: Direct Practice with Children & Families and Direct Practice in Mental Health & Substance Abuse
Coursework: Fully online program with no campus visit required
Open to Texas residents
CSWE Accredited
Status:
Available: Full Time and Part Time Options
Advanced Standing
University of Louisville
Program: Online MSW: Military Social Work (MIL); Alcohol and Drug Counseling (ADCS); Gerontology (GER); Mental Health Counseling (MH); and Psychology Oncology (ONC)
Specialized Area: Military Social Work (MIL); Alcohol and Drug Counseling (ADCS); Gerontology (GER); Mental Health Counseling (MH); and Psychology Oncology (ONC)
Coursework: Online or hybrid optionswith no campus visit required
Open to students anywhere in the United States
CSWE Accredited
Status: Fully Online
Available: Full Time and Part Time Options
Advanced Standing
Top MSW Programs
Types of Social Work Programs