If you are one of the many students interested in making a difference, the online MSW program focused on Substance Abuse could be your first step in doing great things throughout the course of your career.
In terms of what you want to do with your degree, there may be plenty of options to choose from. You should first consider what interests you in this field, what type of skills you have to offer to the people you serve and the populations you think you could positively influence the most.
AD
Online MSW Programs Currently Accepting Applicants
Click to view all online MSW programs that are currently accepting applications.
What is an Online MSW in Substance Abuse Degree?
Once you have determined the type of people you wish to work with, you can seek out a degree program that is suitable for your purpose.
The online MSW program in Substance Abuse can be a great choice for students that hope to focus on drug and alcohol abuse and addiction in the United States during their career. Currently, drug abuse issues are widespread, making education and rehabilitation necessary for the overall improvement of society. Substance abuse issues can also interfere with the healthy development of children and families, as well as the preservation of a career and education. If you have a strong desire to implement change in the lives of people that suffer from addiction, this could be an excellent place to start your career.
Social work degree programs may be some of the most popular choices for upcoming master's-learners with the drive to change society.
What You May Learn in a Substance Abuse MSW Program
The online MSW in Substance Abuse is a degree program that consists of many different topics associated with providing support to the public. Through innovative online courses, you can learn more about addiction psychology, family studies and supportive programs currently available to the public.
Also, you may also learn about the legal system's influence in the lives of substance abusers, rehabilitation programs and legal data pertaining to this issue. Social workers can provide evidence and support to changing policies and laws pertaining to their clients, so it may also be important for students to learn more about the policies and regulations related to substance abuse within their area. All of these fundamental elements may be found in online MSW in Substance Abuse degree programs.
Click to view all online MSW programs that are currently accepting applications.
Potential Salaries for Online MSW in Substance Abuse Graduates
What Kinds of Traits Transfer Well To Social Work?
Working with people that struggle with substance abuse issues may require a strong personality and dedication to the end result. If you feel drawn to this field, you should weigh your desires and strengths against what can be faced in this field in order to ensure you are choosing the right degree program.
Social workers within this field may be required to work with individuals at various stages of acceptance of their abuse issues, making the need for patience and understanding higher than normal. Working people towards becoming aware of their own addiction can be a tedious process that is well worth the potential results.
Substance abuse issues can often lead people into the arms of the law. Social workers that are involved in this field may be required to make court appearances on behalf of their clients, attest to their progress and inform the court of current treatment plan goals. As a professional, you should have organization skills that can help you keep up with a large number of clients, appointment dates, court dates and current progress. Being organized in the field of social work may be extremely important to how well you perform in your duties.
In some areas of social work, professionals are encourages to remain trauma-focused throughout their career. This indicates the need for education in trauma, since it can contribute so much to addiction studies. Many adults and teens that are struggling with addiction or substance abuse issues may have experienced varying forms of trauma throughout their lifestyle.
Being knowledgeable about the effects of trauma can help professionals make more educated decisions about a treatment plan, which could have positive results for the people being served. Trauma-competent social workers may also be more likely to focus on the positive attributes of their clients, which can be monumental in assisting them make progress during their treatment.
Coursework to Expect
Group Work with Diverse Populations
In MSW programs that are focused on substance abuse, students may learn a lot about working with groups of clients in a rehabilitation setting. Social worker students in this degree program can learn about how to communicate effectively without judgment, how to protect the privacy of clients while working in a group setting and methods for building trust and bonds with the people you serve. This course can also help students better comprehend the purpose of group work, as well as the benefits it can provide to those involved.
Alcohol and Drugs in Social Work Practice
Substance Abuse Social Work is a highly specialized field that may require special considerations from those involved. This course can outline the challenges that can be presented to social workers within this area, especially concerning the mind-altering effects of alcohol and drugs on their clients. Health effects, memory and coordination may be some topics discussed in this course, as well as the legal ramifications of abusing these items. Students completing this course should have a general outlook on the substance abuse epidemic in the United States, as well as the improvement initiatives introduced by the U.S. Government.
Perspectives on Addiction and Mental Illness
Students enrolled in this course can learn more about the theoretical perspectives concerning addiction and mental illness in the U.S. Students may take a look at historical data pertaining to addiction studies, current statistics and rationalizations about genetic addiction issues and mental health services currently available to the public. The purpose of this course is to provide students with more knowledge about where these issues arise and how to properly provide support and services to those that have been diagnosed.
How Much Does an Online MSW in Substance Abuse Degree Cost?
Your choice of MSW program can be the deciding factor in how much time and money you spend achieving a higher degree. Students seeking the best deal for their education are often encouraged to research several schools prior to making their final decision, since so many different schools offer varying deals for their degree program.
In some cases, universities may even offer accelerated programs to students that have undergraduate degrees in social work or even those that have a significant amount of experience in a social work-related career field. You should definitely do your research prior to making a decision. Our team of educational experts has provided some helpful information below regarding a university currently offering this program to students in the U.S.
Simmons College is one of the leading providers of MSW programs in the U.S. This university currently offers online MSW programs to students interested in working with clients with substance abuse issues, as well as clients that have been diagnosed with mental illnesses.
On top of a high quality educational program, students can take advantage of 3 MSW options available online. Simmons offers an accelerated option for current BSW holders, a full-time option and a part-time option for busy professionals. This degree program can be completed in as little as 15 months and requires 1,120 hours of field experience prior to graduation.
This online MSW program may require that students complete 65 credit hours in order to successfully graduate. Simmons currently bills students' tuition at a rate of $1,060 per credit hour, which adds up to $68,900 for the entire program.
Depending on where you are searching for online MSW degree programs, you might find that this amount varies greatly. Before you commit to any certain school, you should check out the time it takes to complete the program, as well as the amount of money it will cost you. Financial aid resources such as student loans and employee reimbursement programs may be available to qualifying students. Check with your university and employer to see what type of aid you can qualify for prior to applying.
What types of careers and responsibilities can I expect?
Rehabilitation Services: Substance abusers that find themselves in rehabilitation facilities may be working on finding solutions or alternatives to their current behaviors and problems. Within these facilities, social workers may work with them to discover services available in the community that can help them stay on track when integrating back into society. Rehabilitation services may also include follow-up services that provide long-term support to people with substance abuse issues, including group meetings, drug testing and legal advocacy.
Probation Services: In the event that people with substance abuse issues are facing legal problems as a result of their disorders, social workers can assist with ensuring that they meet all of the recommendations of their probation. Social workers in this field may partner with probation agencies or be providing through nonprofit organizations focused on reducing the substance abuse epidemic within the country. As a professional in this field, you might stay in contact with clients as they progress through their probationary period to ensure they are receiving all recommended services and staying focused on their goal of remaining substance-free.
Family Services: A large number of children in foster care system are there as a result of drug and alcohol-addicted parents. Social workers in substance abuse positions can partner with family services to work with parents on identifying and seeking support for their current substance abuse issues. Locating relevant therapy, working on parenting skills and finding meaningful hobbies and careers can all be helpful services to parents that are seeking reunification with their children. Professionals in this line of work may also be required to testify on their client's progress in a court setting during custody trials.
CSWE Accredited Programs
Accredited Programs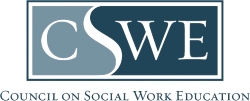 CSWE (Council on Social Work Education) is the top accrediting board for Master of Social Work programs. Below, you will find a list of all of the CSWE accredited social work programs.
Simmons College
Program: Online MSW: Clinical Social Work specialized areas in Mental Health and Substance Abuse; Child and Family Welfare; Trauma and Interpersonal Violence; and Health and Aging
Specialized Area: Clinical Social Work specialized areas in Mental Health and Substance Abuse; Child and Family Welfare; Trauma and Interpersonal Violence; and Health and Aging
Coursework: Online program with both weekly 90-minute synchronous sessions and asynchronous course work
Open to students from all states except New Hampshire and some districts in Maryland
CSWE Accredited
Status: Fully Online
Available: Full Time
Advanced Standing
University of Texas at Arlington
Program: Online MSW: Direct Practice with Children & Families and Direct Practice in Mental Health & Substance Abuse
Specialized Area: Direct Practice with Children & Families and Direct Practice in Mental Health & Substance Abuse
Coursework: Fully online program with no campus visit required
Open to Texas residents
CSWE Accredited
Status:
Available: Full Time and Part Time Options
Advanced Standing
University of Louisville
Program: Online MSW: Military Social Work (MIL); Alcohol and Drug Counseling (ADCS); Gerontology (GER); Mental Health Counseling (MH); and Psychology Oncology (ONC)
Specialized Area: Military Social Work (MIL); Alcohol and Drug Counseling (ADCS); Gerontology (GER); Mental Health Counseling (MH); and Psychology Oncology (ONC)
Coursework: Online or hybrid optionswith no campus visit required
Open to students anywhere in the United States
CSWE Accredited
Status: Fully Online
Available: Full Time and Part Time Options
Advanced Standing
Top MSW Programs
MSW Concentration Areas
Social Work FAQ