i
Consider a sponsored online MSW program that is taking applications for 2023.
School
Program
Admissions
Case Western Reserve University
Online Master of Social Work

No GRE required. Earn your Master of Social Work online at CWRU in as little as two and a half years. Bachelor's degree required.

Saint Mary's University of Minnesota
Master of Social Work

GRE waived. 100% Online, Advanced Standing available.

George Mason University
Online MSW: Children, Youth, & Families

CSWE accredited. Specialized online tracks focused on Children, Youth, & Families.
Click to view accredited online MSW programs that are taking applications right now and for 2023.
What Do You Learn in an Online MSW in Individuals and Families Degree
The MSW in Individuals and Families can be found at universities across the United States. This degree program can introduce students to topics that are relevant to the care of people and groups. These topics may include communication techniques, community building, state resources, and social behavior.
If you are interested in an MSW degree, you may want to investigate various career paths for professionals in this line of work. Locating a career path that interests you can be a great way to choose a specialization that fits what you are passionate about. Working with individuals and families can be a rewarding area for graduates of MSW programs. Online MSW programs with an Individuals and Families focus may aid students in gaining skills that help clients find routes to fulfilling and healthy lives.
What do you do with a MSW focused on families?
Social workers who have obtained and MSW in Individuals and Families can be found working with people and groups in need of guidance through family planning, court trials, drug and alcohol rehabilitation programs, and educational support. Social workers can act as a connecting point between those they serve and the resources that may support their current needs.
In depth review of Individual or Family Services MSW Degrees
The decision to enter an MSW in Individuals and Families program may entail research by prospective students. There can be multiple items to consider when choosing a program. These items include the length of the program, the courses available, career options after graduation, and overall cost.
A way of evaluating the differences between MSW in Individuals and Families programs can be to visit each school's website. Here you may be able to find information regarding the setup of various programs, as well as the requirements for attendance.
Fordham University MSW for individual and family services degree
One university that currently offers an online MSW for individual and family services is Fordham University. This college can provide students with research-driven techniques and extensive knowledge about services available to clients that fall into these groups.
There are four areas of focus: Individuals and Families, Organizations and Community, Evaluation, and Policy Practice and Advocacy.
Fordham's top-ranked Graduate School of Social Service offers a future-focused online MSW program, preparing students for integrated practice with all populations. Fordham's CSWE-accredited online Master of Social Work program offers a future-focused curriculum, preparing students with advanced integrated competencies that cut across populations and contexts.
Click to view all online MSW programs that are currently accepting applications.
Online MSW in Individuals and Families Courses
Each of these courses can investigate methods to effectively assist people in varying social situations, as well as those in need of guidance through difficult life events. If you are interested in providing support on an individual or group basis, you should read more about this degree program in the sections below.
Social Work Interventions
One of the few things that can be certain within the field of society work is that the work may be as diverse as the clients. In this field, professionals may require skills in program planning and intervention that can be unique to each client. This course can introduce students to new and innovative intervention methods relevant to different clients with different needs. Students may take a look at needs related to healthcare, education or public welfare systems in order to have a diverse understanding of what intervention can look like for each group.
Law and Ethics
Students entering into social work degree programs should have a strong outlook on the law and ethical considerations of working in this field. At the onset of a social work program, students should become familiarized with the regulations associated with working in the public domain, as well as the ethical concerns associated with working in diverse environments. As part of this course's requirements, students may be tasked with identifying ethical issues within mock scenarios and providing an action plan to change their own way of thinking when working in the field.
Social Work with Children and Families Across Settings
An important aspect of working with individuals and families is to consider the settings in which clients frequent. Comprehending the environment can be a major aspect in determining whether or not the right types of services have been implemented and if programs should include improvement plans for these areas. Students enrolled in this course can assess interactions with the environment, influences of groups within these settings, family dynamics and educational components as part of the initial planning process.
From an outside perspective, the field of social work may appear as if it is focused on low-income families and their needs. However, social work professionals can work with just about any member of society on locating services and programs that can meet their needs.
Which Traits Transcribe to an Online MSW in Individuals and Families
Depending on the field you choose to work in, there may be personality traits that can help you be more effective at completing a wide variety of daily tasks. Some people that graduate with a MSW in Individual and Families may choose to work in popular fields such as Human or Children's Services.
In these fields, professionals may need to have a high level of resilience when working with families that have experienced varying levels of trauma. Also, upcoming professionals that are research-oriented may be more effective in locating helpful programs and services for the families they have served.
Working in children's divisions or family services may not be the only option for professionals within this field. Some graduates of these programs may choose to work in the healthcare field or even alongside professionals within the legal system. Each of these fields may require professionals that are willing to dig deep to provide solutions to life's most challenging situations, question an organization's response to a client's request for help and implement helpful improvement plans that can make a difference in the lives of the people being served.
Social work professionals can be life-changing additives for people in need of guidance. The services that they can provide can help alleviate some of life's unfortunate circumstances, as well as educate the public on what is provided to them. If you are the type of person that is willing to go out of your way to help others, you should consider becoming a part of this field. Organizations that are focused on improving communities or society as a whole may be constantly searching for educated professionals with the drive to help others before themselves.
What Types of Careers Could I Potentially Enter With An Individuals and Families Degree?
Individual Assessments/Evaluations
Many career options in the field of individual and families services may require professionals to work closely with their clients to determine their needs. Conducting assessments and evaluating results may be the most common method of ensuring this process is completed accurately. The assessment process can identify what types of needs are present for your client, as well as organize what needs are being met and others that are not. This can help you pinpoint your focus on programs and services that can be beneficial for your client.
Program Planning for Families
Although it may seem similar, there are many differences in practice and planning when working with families rather than individuals. Your degree program can teach you about the family dynamic, as well as counseling methods that can assist you in reaching multiple members of a family through accurate practice. In this field, you may meet with families to understand what types of services they may require, organize your program plan to meet the needs of each member and actively listen to each client in order to make the most of your relationship.
Networking with Social Service Organizations/Agencies
As you locate and provide resources to your clients, it may be important to gain rapport with social service agencies in your area. A lot of the business conduct through social work may be in partnership with these agencies, making communication and networking a possible essential to a successful career. Knowing your agencies and their services can also make your program planning a little easier along the way.
Potential Online MSW in Individuals and Families Degree Salaries
Individual and Family Services Social Workers: $46,640 on average per year (BLS).
Social Workers (general): $61,190 on average per year (BLS).
CSWE Accredited Programs
Accredited Programs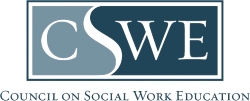 CSWE (Council on Social Work Education) is the top accrediting board for Master of Social Work programs. Below, you will find a list of all of the CSWE accredited social work programs.
Temple University
Program: Online MSW: Areas of Specialist Practice: Trauma, Health/Mental Health, Children and Families, Humanitarian Social Work, and Military Social Work
Specialized Area: Areas of Specialist Practice: Trauma, Health/Mental Health, Children and Families, Humanitarian Social Work, and Military Social Work
Coursework: Mix of synchronous and asynchronous classes, with synchronous classes, advising, and group work on Tuesday and Thursday evenings
Open to students in most states
CSWE Accredited
Status: Online with Campus Visit
Available: Part Time
California State University, Long Beach
Program: Online MSW: Children, Youth, and Families
Specialized Area: Children, Youth, and Families
Coursework: Interactive television and online resources with frequent in-person visits by faculty. Classes on Saturdays with 16-hour per week field placements during second and third academic years

CSWE Accredited
Status:
Available: Part Time
Simmons College
Program: Online MSW: Clinical Social Work specialized areas in Mental Health and Substance Abuse; Child and Family Welfare; Trauma and Interpersonal Violence; and Health and Aging
Specialized Area: Clinical Social Work specialized areas in Mental Health and Substance Abuse; Child and Family Welfare; Trauma and Interpersonal Violence; and Health and Aging
Coursework: Online program with both weekly 90-minute synchronous sessions and asynchronous course work
Open to students from all states except New Hampshire and some districts in Maryland
CSWE Accredited
Status: Fully Online
Available: Full Time
Advanced Standing
Case Western Reserve University
Program: Online MSW: Community Practice & Social Change and Direct Practice (Child, Youth, & Families) or (Mental Health/Adults)
Specialized Area: Community Practice & Social Change and Direct Practice (Child, Youth, & Families) or (Mental Health/Adults)
Coursework: Online program
Open to students anywhere in the United States
CSWE Accredited
Status:
Available: Full Time and Part Time Options
Advanced Standing
Radford University
Program: Online MSW: Community-based Family Practice
Specialized Area: Community-based Family Practice
Coursework: Hybrid of online and in-class alternating each week on Saturdays
Open to students in Virginia
CSWE Accredited
Status: Online with Campus Visit
Available: Part Time
University of Texas at Arlington
Program: Online MSW: Direct Practice with Children & Families and Direct Practice in Mental Health & Substance Abuse
Specialized Area: Direct Practice with Children & Families and Direct Practice in Mental Health & Substance Abuse
Coursework: Fully online program with no campus visit required
Open to Texas residents
CSWE Accredited
Status:
Available: Full Time and Part Time Options
Advanced Standing
Our Lady of the Lake University
Program: Online MSW: Direct practice with Hispanic Children and Families
Specialized Area: Direct practice with Hispanic Children and Families
Coursework: Fully online program with no campus visit required
Open to students from all US States except Delaware, all US territories, and all US military bases overseas
CSWE Accredited
Status: Fully Online
Available: Full Time and Part Time Options
Advanced Standing
University of Texas of the Rio Grande Valley
Program: Online MSW: Direct Practice with Individuals, Families, and Groups and Community and Administrative Practice
Specialized Area: Direct Practice with Individuals, Families, and Groups and Community and Administrative Practice
Coursework: Fully online program with no campus visit required
Open to residents of Texas and other states with which UTRGV has agreements
CSWE Accredited
Status:
Available: Full Time and Part Time Options
Advanced Standing
Edinboro University of Pennsylvania
Program: Online MSW: Family Social Work Practice
Specialized Area: Family Social Work Practice
Coursework: Online program
Open to students anywhere in the United States
CSWE Accredited
Status: Fully Online
Available: Full Time
Advanced Standing
University of New England
Program: Online MSW: Individual, Family, & Group Practice (clinical-based) and Organizational and Community Practice (policy-based)
Specialized Area: Individual, Family, & Group Practice (clinical-based) and Organizational and Community Practice (policy-based)
Coursework: Asynchronous learning with no campus visits required
Open to students anywhere in the US and internationally
CSWE Accredited
Status: Fully Online
Available: Full Time
Advanced Standing
Metropolitan State University of Denver
Program: Online MSW: Individuals & Families and Macro (Leadership & Management)
Specialized Area: Individuals & Families and Macro (Leadership & Management)
Coursework: Online and hybrid formats
Primarily serving students in Colorado
CSWE Accredited
Status: Fully Online
Available: Full Time and Part Time Options
Boise State University
Program: Online MSW: Individuals and Families
Specialized Area: Individuals and Families
Coursework: Mostly Asynchronous, with the exception of practice and field seminar courses
Most of the US
CSWE Accredited
Status: Fully Online
Available: Full Time and Part Time Options
Advanced Standing
California State University, Northridge
Program: Online MSW: Urban Family Studies
Specialized Area: Urban Family Studies
Coursework: Online program using asynchronous instruction with 24/7 access to classes
Open to students anywhere in the United States
CSWE Accredited
Status: Fully Online
Available: Full Time
Top MSW Programs
Types of Social Work Programs