i
Consider a sponsored online MSW program that is taking applications for 2023.
Click to view accredited online MSW programs that are taking applications right now and for 2023.
100% online MSW programs are one of the most common online degrees offered throughout universities. An MSW degree program is popular for students that have obtained an undergraduate degree in social work (Advanced Standing MSW programs are available), or those that have completed related degree programs in psychology or sociology. Students that are intrigued by this degree program can indulge in programs in the traditional learning environment or those that can be completed online.
The growth in popularity of the Online MSW has sparked the creation of entirely online MSW programs all over the country. The MSW program was designed in an effort to create more knowledgeable social work professionals for various professional fields.
Compare our list of 100% Online MSW Programs that are CSWE accredited. Be sure to check with the MSW program admissions department to ensure there are no campus visits or residencies required.
The growth in popularity of the Online MSW degree has sparked the creation of entirely online MSW programs all over the country. These programs can potentially open doors for new college students that may have not had the time to enroll in degree programs in their past. The MSW program was designed in an effort to create more knowledgeable social work professionals for various professional fields.
What is the Master of Social Work Degree Program?
The entirely online MSW program may provide students with the option of self-learning and personal dedication throughout their program, which is something that traditional learning environments may not be able to obtain.
Through online discussions, virtual lectures and online test submission, students can gain the same information and skills as students within the traditional environment. The online MSW is an ideal program choice for professionals that are already working in the social work field or those that cannot make the time for attending classes on campus.
If you are seeking better career options, more experience or simply a higher-level degree in social work, you should research entirely online MSW programs available in your area. This program may require that you be self-disciplined and motivated, since you may be required to log in a few times a week to engaging in course work. Completing this program can set you up for a supervised experience that can align you with the licensure requirements for your state. If you are interested in this program, read more in the guide provided by our experts below.
Click to view all online MSW programs that are currently accepting applications.
What Kind of Aspects Make A Good Social Worker?
Those that have yet to work in the field of social work may be curious about what type of personal traits can be beneficial in order to succeed in the field. Social work is certainly one field of work that requires a specific personal traits in order to truly help those in need.
The first thing to consider when deciding on this degree program is whether or not you are dedicated to helping others in need. This sense of compassion can help you to go the extra mile when working with clients, as well as help you feel a sense of happiness or satisfaction when you are successful in your goals.
Compassion can be a great resource for upcoming professionals in that it can help you maintain a strong bond with your career and give you the desire to work through difficult circumstances on a regular basis.
The responsibilities of the social worker may include many different aspects, including paperwork, client meetings, therapy sessions, and even a presence in the court room. While there are not many constants in this field, most social workers may advise you to find a good planner and keep it with you at all times.
Coordination and organization are two factors that can assist you in being a great social work professional. Maintaining a schedule that help you stay organized and not miss any important meetings or events can be a career-saving action within this field, since social work careers can lead you to many different places in a given week. If you have great organizations skills and are able to multi-task with ease, this could be a smart career choice for you.
As you enter into the field of social work, you may find that you can have the opportunity to work with a very diverse set of clients with varying issues and cultural backgrounds. Social workers must balance a client's right to self-determination with safety, and being able to provide encouragement without inflicting one's personal beliefs on a client.
Patience may be the key to working through frustrating situations on a regular basis and may require professionals to set aside their own expectations to work at the pace of their clients. When you are considering a degree program in social work, you should consider these skills alongside your educational plan. Do you have a personality that is complementary to this career field? If so, then you are ready for the next steps!
How Much Does An Online MSW Degree Cost?
Now that you have sifted through some of the personal requirements for this career field, you might be curious about what is in store in terms of the actual degree program. Learning more about what your program consists of can help you plan more efficiently for the next couple of years of your education, as well as have potential careers and responsibilities in sight for after graduation.
In this section, our team of educational experts has reviewed an entirely online MSW program in order to give you more information about the time and costs associated with this degree program. As you read more about this program below, consider what you are looking for in a master's program and see if this aligns with your planning.
One prestigious university offering the 100% online MSW program is Columbia University. This college can be an excellent resource for upcoming college students that are interested in high-quality educational programs that can set them on track for successful careers.
The online MSW at this school currently has a tuition rate of $1,504 per credit hour, which adds up to about $20,304 per term. In addition to relevant tuition charges, students should research any potential fees or charges that may be assessed in relation to the online program, including books, technology fees or graduation fees. As you look at different universities for your program, you should research all fees of the program when looking for the best deal.
The online MSW program at Columbia University may require that students choose a certain path for their online MSW. This school current offers a 2 year program, advanced standing program, reduced residency program, extended program and transfer program. Depending on your previous experience in the field of social work and your previously acquired degrees, you could find a program that is shorter in duration or better suited for your knowledge. Most students that enroll in the online MSW program at this school can complete their program in 2 – 2.5 years.
Coursework to Expect
Essentials for Social Work Practice
Social work practice may require professionals to follow certain standards and conduct themselves in a way that represents their field well. This course can teach students more about what is required of them in a professional setting, skills that can help provide better assessments and methods that have been proven effective when working with people in the social work field.
Diversity and Human Rights
One important factor for social workers to consider prior to finding a career in this field is diversity. Diversity is a constant within society, making it a vital consideration for upcoming professionals that may work with people from different culture and ethnic backgrounds. In this course, students may be expected to explore diverse research topics, provide unbiased opinions about social concerns and even take part in classroom discussions that can help students realize their own shortcomings in making equal decisions.
Social Policy
Most social agencies are regulated by state and national agencies. Since this is common within the field of social work, workers may be responsible for knowing policies relevant to their field of expertise throughout the duration of their entire career. This course can introduce students to common social policies regarding poverty, healthcare, education and welfare. Each of these policies can be helpful for social workers that are employed within some of the most common fields for social work.
What Types of Careers and Responsibilities Can I Expect?
Child and Family Social Work
Positions in child and family social work can be found in nearly all states. These professionals may be responsible for providing support to children during welfare crises, intervene when families lack necessary resources, or even engage families during child removal and reunification situations. Job openings within this area of expertise may be found through a state's Department of Human or Children's Services, but are not limited to these agencies alone.
Military Social Work
In current society, more and more awareness may be growing for mental health and life quality of military members and their families. In this line of work, social workers may work with current or former military members that may be struggling with mental health issues that have risen as a result of active duty or simply those that need support adjusting back to a civilian lifestyle. Social workers may also work with the families of military members that have been lost in combat or those that have effective conditions as a result of their service.
Court and Legal Social Work
The legal field is another that may contain a higher number of social workers. The legal system is a highly complex professional field that may be foreign to many common members of society. Court social workers can assist plaintiffs or defendants before and during trials, helping them with providing requested information, teaching them about questioning and answering under oath and even provide general information about the legal process. Some social workers within this field also specialize in providing support to children that may be involved in legal cases before the court.
Salaries of Social Work Associated Careers
Advantages of The Entirely Online Program
Now that you have reviewed this degree program and what it can provide for you in the future, you should consider if entirely online MSW programs are the best option for you. There may be many added benefits to obtaining your degree completely online, but these are relative to your needs and your personal schedule.
1. Flexible course schedule
Most online degree programs allow students to make their own schedule, which can be a life-saver for currently employed students or those that have a busy life at home. If you choose to engage in coursework in the late hours of the night when life has settled down, this could be a great option for you. People that learn more efficiently in a classroom setting may be better candidates for traditional learning environments.
2. MSW programs online are still CSWE accredited
Entirely online MSW programs are subjected to the same accreditation process as standard degree programs. Since social work is a field that may require licensure prior to serving the public, students are often concerned about the quality of the degree program that plan to enroll in. Find a review of the best CSWE accredited online MSW programs here.
3. A path to licensure
In recent years, accreditation agencies have started to review and accredited online MSW programs in the same fashion that they do traditional programs. While you are looking at online MSW programs, look for relevant accreditation information on the degree's website to ensure the degree programs meets all of the requirements set forth for your licensure. Many online MSW programs available throughout the U.S. have received accreditation and help you to obtain your license after graduation.
4. Become self-motivated and self-reliant, independent
Finally, entirely online MSW programs can be a great way for students to rely on their own motivation and efficiency to get into the job they want. It can be difficult at times to finish homework by certain deadlines or complete course work when you have had a busy day.
Students in online programs can learn self-reliant skills that can assist them in being better students and better professionals as they progress through the program. If you are interested in having control over your education and your scheduling, this degree program could be the best option for you.
CSWE Accredited 100% Online MSW Programs
Accredited Programs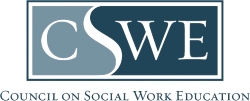 CSWE (Council on Social Work Education) is the top accrediting board for Master of Social Work programs. Below, you will find a list of all of the CSWE accredited social work programs.
Columbia University
Program: Online MSW: Advanced Clinical Practice or Social Enterprise Administration
Specialized Area: Advanced Clinical Practice or Social Enterprise Administration
Coursework: Online program with live synchronous virtual classroom delivery and asynchronous content available 24/7
Open to students anywhere the United States
CSWE Accredited
Status: Fully Online
Available: Full Time and Part Time Options
Advanced Standing
Widener University
Program: Online MSW: Advanced Clinical with focus on trauma and its impact on mental health
Specialized Area: Advanced Clinical with focus on trauma and its impact on mental health
Coursework: Online program with mostly asynchronous content
Open to students anywhere in the United States, as well as service members stationed around the world
CSWE Accredited
Status: Fully Online
Available: Part Time
Arizona State University
Program: Online MSW: Advanced Generalist
Specialized Area: Advanced Generalist
Coursework: Asynchronous, 24/7 Class Access
US and International
CSWE Accredited
Status: Fully Online
Available: Full Time and Part Time Options
University of New Hampshire
Program: Online MSW: Advanced Generalist
Specialized Area: Advanced Generalist
Coursework: Online program using mostly asynchronous instruction with 24/7 access to classes

CSWE Accredited
Status: Fully Online
Available: Full Time and Part Time Options
Indiana University
Program: Online MSW: Advanced Generalist
Specialized Area: Advanced Generalist
Coursework: Online program
Open to students anywhere in the United States
CSWE Accredited
Status: Fully Online
Available:
Advanced Standing
Campbellsville University
Program: Online MSW: Advanced Generalist
Specialized Area: Advanced Generalist
Coursework: Online program with no campus visit required
Open to residents of Kentucky and surrounding states
CSWE Accredited
Status: Fully Online
Available: Full Time and Part Time Options
Advanced Standing
Rutgers University
Program: Online MSW: Clinical Social Work
Specialized Area: Clinical Social Work
Coursework: Fully online
Open to students nationwide
CSWE Accredited
Status: Fully Online
Available: Part Time
Boston University
Program: Online MSW: Clinical Social Work Practice
Specialized Area: Clinical Social Work Practice
Coursework: Asynchronous, 24/7 Class Access, taught by program faculty.
All of the US
CSWE Accredited
Status: Fully Online
Available: Part Time
Advanced Standing
University of South Florida
Program: Online MSW: Clinical Social Work Practice
Specialized Area: Clinical Social Work Practice
Coursework: Fully online with no campus visit required
Open to students in Florida, Massachusetts, and Pennsylvania
CSWE Accredited
Status: Fully Online
Available: Full Time and Part Time Options
Advanced Standing
Simmons College
Program: Online MSW: Clinical Social Work specialized areas in Mental Health and Substance Abuse; Child and Family Welfare; Trauma and Interpersonal Violence; and Health and Aging
Specialized Area: Clinical Social Work specialized areas in Mental Health and Substance Abuse; Child and Family Welfare; Trauma and Interpersonal Violence; and Health and Aging
Coursework: Online program with both weekly 90-minute synchronous sessions and asynchronous course work
Open to students from all states except New Hampshire and some districts in Maryland
CSWE Accredited
Status: Fully Online
Available: Full Time
Advanced Standing
Our Lady of the Lake University
Program: Online MSW: Direct practice with Hispanic Children and Families
Specialized Area: Direct practice with Hispanic Children and Families
Coursework: Fully online program with no campus visit required
Open to students from all US States except Delaware, all US territories, and all US military bases overseas
CSWE Accredited
Status: Fully Online
Available: Full Time and Part Time Options
Advanced Standing
Edinboro University of Pennsylvania
Program: Online MSW: Family Social Work Practice
Specialized Area: Family Social Work Practice
Coursework: Online program
Open to students anywhere in the United States
CSWE Accredited
Status: Fully Online
Available: Full Time
Advanced Standing
University of New England
Program: Online MSW: Individual, Family, & Group Practice (clinical-based) and Organizational and Community Practice (policy-based)
Specialized Area: Individual, Family, & Group Practice (clinical-based) and Organizational and Community Practice (policy-based)
Coursework: Asynchronous learning with no campus visits required
Open to students anywhere in the US and internationally
CSWE Accredited
Status: Fully Online
Available: Full Time
Advanced Standing
Metropolitan State University of Denver
Program: Online MSW: Individuals & Families and Macro (Leadership & Management)
Specialized Area: Individuals & Families and Macro (Leadership & Management)
Coursework: Online and hybrid formats
Primarily serving students in Colorado
CSWE Accredited
Status: Fully Online
Available: Full Time and Part Time Options
Boise State University
Program: Online MSW: Individuals and Families
Specialized Area: Individuals and Families
Coursework: Mostly Asynchronous, with the exception of practice and field seminar courses
Most of the US
CSWE Accredited
Status: Fully Online
Available: Full Time and Part Time Options
Advanced Standing
University of North Dakota
Program: Online MSW: Master's in Social Work
Specialized Area: Master's in Social Work
Coursework: Online program

CSWE Accredited
Status: Fully Online
Available:
University of Denver
Program: Online MSW: Mental Health and Trauma
Specialized Area: Mental Health and Trauma
Coursework: Primarily asynchronous content with the exception of weekly 90-minute collaborate learning sessions
Open to students anywhere in the United States, except Delaware, Kentucky, New Jersey, and North Carolina
CSWE Accredited
Status: Fully Online
Available: Full Time
University of Louisville
Program: Online MSW: Military Social Work (MIL); Alcohol and Drug Counseling (ADCS); Gerontology (GER); Mental Health Counseling (MH); and Psychology Oncology (ONC)
Specialized Area: Military Social Work (MIL); Alcohol and Drug Counseling (ADCS); Gerontology (GER); Mental Health Counseling (MH); and Psychology Oncology (ONC)
Coursework: Online or hybrid optionswith no campus visit required
Open to students anywhere in the United States
CSWE Accredited
Status: Fully Online
Available: Full Time and Part Time Options
Advanced Standing
University of Arkansas
Program: Online MSW: Multi-System Life Course
Specialized Area: Multi-System Life Course
Coursework: Online asynchronous program augmented by pre-scheduled webcasting
Open to students anywhere in the United States
CSWE Accredited
Status: Fully Online
Available:
Advanced Standing
Salisbury University
Program: Full-time Online MSW: Practice with Individuals, Families, Groups, and Organizations
Specialized Area: Practice with Individuals, Families, Groups, and Organizations
Coursework: Fully online program with both synchronous and asynchronous components
Open to residents of Maryland, West Virginia, Virginia, District of Columbia, and Pennsylvania
CSWE Accredited
Status: Fully Online
Available: Part Time
Advanced Standing
University at Buffalo (State University of New York)
Program: Online MSW: Trauma-Informed and Human Rights Perspective
Specialized Area: Trauma-Informed and Human Rights Perspective
Coursework: Fully online program with courses delivered through both asynchronous and synchronous methods
Open to students anywhere in the United States and Canada
CSWE Accredited
Status: Fully Online
Available: Part Time
Advanced Standing
California State University, Northridge
Program: Online MSW: Urban Family Studies
Specialized Area: Urban Family Studies
Coursework: Online program using asynchronous instruction with 24/7 access to classes
Open to students anywhere in the United States
CSWE Accredited
Status: Fully Online
Available: Full Time
Louisiana State University
Program: Online Master of Social Work
Specialized Area:
Coursework: Asynchronous 7-week modules with six start dates per year (two start dates for advanced standing)
Open to students anywhere in the United States except Delaware; Washington, DC; Kentucky; Massachusetts; New York; and North Carolina
CSWE Accredited
Status: Fully Online
Available: Full Time and Part Time Options
Advanced Standing
Top MSW Programs
Types of Social Work Programs