i
Consider a sponsored online MSW program that is taking applications for 2023.
School
Program
Admissions
Our Lady of the Lake University
Online Master of Social Work

No GRE Required, CSWE Accredited, 12 month program for BSW holders.

Case Western Reserve University
Online Master of Social Work

No GRE required. Earn your Master of Social Work online at CWRU in as little as two and a half years. Bachelor's degree required.

Saint Mary's University of Minnesota
Master of Social Work

GRE waived. 100% Online, Advanced Standing available.

George Mason University
Online MSW: Children, Youth, & Families

CSWE accredited. Specialized online tracks focused on Children, Youth, & Families.
Click to view accredited online MSW programs that are taking applications right now and for 2023.
What Is Online MSW in Hispanic Children and Families Degree?
The Hispanic family MSW specialization within the field of social work is a growing area, particularly in the southwest United States.
This MSW degree program is ideal for professionals interested on focusing on the care and support of Hispanic families throughout the United States. In this area of expertise, professionals can choose to work in many different specialized fields of social work, since Hispanic individuals and families may seek support in numerous social domains.
Why consider a Hispanic family MSW specialized degree?
A lot of new social work students may enter into their MSW program with the desire to increase the quality of life for those around them. One thing to consider when enrolling in online MSW programs is the type of people you wish to work with or wish to influence positively throughout your career.
By choosing a specialty focused on Hispanic families to go alongside your MSW degree, you can focus more on the needs of these individuals to help strengthen your knowledge and skill within this area.
What Traits Transcribe to an Online MSW in Hispanic Children and Families Degree?
Social workers interested in providing support and guidance to Hispanic children and their families should have a wide range of skills and personality traits in order to help them be more successful within their careers.
Like most other social work specializations, this one in particular may require professionals to have a strong desire to help others. If you are interested in taking part in this degree program, you should be caring and considerate of the needs of minority populations found throughout the United States.
Hispanic children and their families deserve to exercise their rights within the U.S. Professionals that choose to work in this field should have a strong knowledge of the policies and laws associated with minority populations, as well as the confidence to fight for the rights of their clients.
Confident workers may be more effective in gaining the rapport needed with their clients, pursuing services and programs and encouraging policy makers to re-evaluate policies in need of update.
Upcoming students that are open to learning more about others and sensitive to the needs of minority populations could be great additions to this field. Students that speak Spanish or have bilingual capabilities may also have an advantage in this field, since some of the population served may not be able to speak fluent English.
In society, services specific to Hispanic children and families may be vital to integrating these families into communities normally and ensuring that their needs are being met.
Click to view all online MSW programs that are currently accepting applications.
If you are interested in being a voice for those around you, you may be a great candidate for MSW programs that can support the needs of minority populations currently found in the U.S. The United States is an incredibly diverse place to live. Within the field of social work, professionals may work with a wide variety of people with diverse backgrounds.
Online MSW in Hispanic Children and Families Courses
Diversity and Oppression
Working with minority populations may require professionals to have a strong understanding of the needs of diverse populations found within the United States. In this course, students can learn more about diverse populations within the U.S., including populations of difference races, sexual orientations, nationalities and even physical differences. The goal of this course is to spotlight the current status of fair treatment, identify areas of concern and team up to make a difference for those affected.
Law and Ethics
It may be important for upcoming social work professionals to be heavily involved and familiar with current welfare laws and policies. Since most of the work conducted will be in accordance to the laws, students should focus some of their studies on ethical treatment of clients, laws regarding diversity and fair treatment and ethical conduct in the workplace. These are all fundamental skills that can benefit any professional within the field of social work. Students can also be instructed to influence change in out-dated policies and laws found throughout their career.
Latino Studies
Students interested in pursuing the MSW – Hispanic Children and Families degree should spend a considerable amount of time learning about the people they plan to work with. In this course, students can learn about the historical foundations of the Hispanic population, as well as look into Latino heritage including studies from Spain and Brazil. Students enrolled in this course can learn more about the family dynamic in Hispanic households, religions, cultural beliefs and norms and health considerations. This knowledge can assist professionals with providing better suited programs for their clients.
How Much Does an Online MSW in Hispanic Children and Families Cost?
If you have a fitting personality for this great degree program, you should probably take advantage of some of the online MSW programs available to you. Many upcoming students may feel overwhelmed about the many options available to them, which can be a normal response to wide range of possibilities currently open in the U.S.
A couple of factors that can be helpful in slimming down your options may be the financial costs of obtaining your degree and the length of time it can take you to graduate from it. By looking at these factors, you may be able to find the right college program to enroll in. Our team of educational experts has reviewed Our Lake of the Lake University in order to give you a better idea of what to expect during your search. Take a look at what this degree program consists of below.
Our Lady of the Lake University can be a great option for upcoming MSW students that have an interested in high-quality educational programs. It current has 2 programs available to students within this major – the advanced standing program and the foundation program.
The advanced standing program is best suited for BSW-earners that are seeking degree advancement, while the foundation program may be the best option for students from other bachelor's programs. In terms of completion time, students can expect to complete the foundation program in 2-3 years. The advanced standing program can be completed in under 2 years for most full-time students.
The credit hour requirement for the advanced standing MSW at LLU is 30, while the foundation program requires 57. The tuition rate for both programs is $907 per credit hour. Each program also requires a $40 application fee which is due at the time of application.
Many online degree programs may also integrate different types of fees each semester, so it is important to identify these fees prior to submitting your application. Comparing these total costs to costs of other institutions can also help you assess which option can give you the best financial outcome.
MSW in Hispanic Children and Families Careers
Family Support Worker
For Hispanic families in the United States, support workers can assist with ensuring that resources are available, education programs are located and children are given access to necessary healthcare services. Being a professional in this type of career may include the need of knowledge about different programs and services for Hispanic families, translation services and even culturally-appropriate food resources. Families integrating into their communities may also use the expertise of family support workers to help in learning the legal and ethical requirements of their area, so that they can become fruitful members of their community.
Human Rights Advocacy
Assisting minority populations with asserting their rights as citizens can be a huge responsibility for people that take on positions in human rights advocacy. These types of careers can be found in nonprofit agencies, through the court system and even through the government. Professionals in these positions may require a strong knowledge of constitutional rights, as well as historical case studies regarding Hispanic families and their rights.
Community Planning Supervision
Areas that have a large population of Hispanic children and families may require a large number of resources to help accommodate their needs. Community planning specialists may interview members of the community and conduct needs assessments to determine what the area is lacking and what it needs. As a supervisor within this field, you may be responsible for ensuring that planning and implementation is relevant to the needs of your community and providing follow-up reviews for efficiency.
CSWE Accredited Programs
Accredited Programs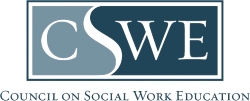 CSWE (Council on Social Work Education) is the top accrediting board for Master of Social Work programs. Below, you will find a list of all of the CSWE accredited social work programs.
Temple University
Program: Online MSW: Areas of Specialist Practice: Trauma, Health/Mental Health, Children and Families, Humanitarian Social Work, and Military Social Work
Specialized Area: Areas of Specialist Practice: Trauma, Health/Mental Health, Children and Families, Humanitarian Social Work, and Military Social Work
Coursework: Mix of synchronous and asynchronous classes, with synchronous classes, advising, and group work on Tuesday and Thursday evenings
Open to students in most states
CSWE Accredited
Status: Online with Campus Visit
Available: Part Time
California State University, Long Beach
Program: Online MSW: Children, Youth, and Families
Specialized Area: Children, Youth, and Families
Coursework: Interactive television and online resources with frequent in-person visits by faculty. Classes on Saturdays with 16-hour per week field placements during second and third academic years

CSWE Accredited
Status:
Available: Part Time
Simmons College
Program: Online MSW: Clinical Social Work specialized areas in Mental Health and Substance Abuse; Child and Family Welfare; Trauma and Interpersonal Violence; and Health and Aging
Specialized Area: Clinical Social Work specialized areas in Mental Health and Substance Abuse; Child and Family Welfare; Trauma and Interpersonal Violence; and Health and Aging
Coursework: Online program with both weekly 90-minute synchronous sessions and asynchronous course work
Open to students from all states except New Hampshire and some districts in Maryland
CSWE Accredited
Status: Fully Online
Available: Full Time
Advanced Standing
Case Western Reserve University
Program: Online MSW: Community Practice & Social Change and Direct Practice (Child, Youth, & Families) or (Mental Health/Adults)
Specialized Area: Community Practice & Social Change and Direct Practice (Child, Youth, & Families) or (Mental Health/Adults)
Coursework: Online program
Open to students anywhere in the United States
CSWE Accredited
Status:
Available: Full Time and Part Time Options
Advanced Standing
Radford University
Program: Online MSW: Community-based Family Practice
Specialized Area: Community-based Family Practice
Coursework: Hybrid of online and in-class alternating each week on Saturdays
Open to students in Virginia
CSWE Accredited
Status: Online with Campus Visit
Available: Part Time
University of Texas at Arlington
Program: Online MSW: Direct Practice with Children & Families and Direct Practice in Mental Health & Substance Abuse
Specialized Area: Direct Practice with Children & Families and Direct Practice in Mental Health & Substance Abuse
Coursework: Fully online program with no campus visit required
Open to Texas residents
CSWE Accredited
Status:
Available: Full Time and Part Time Options
Advanced Standing
Our Lady of the Lake University
Program: Online MSW: Direct practice with Hispanic Children and Families
Specialized Area: Direct practice with Hispanic Children and Families
Coursework: Fully online program with no campus visit required
Open to students from all US States except Delaware, all US territories, and all US military bases overseas
CSWE Accredited
Status: Fully Online
Available: Full Time and Part Time Options
Advanced Standing
University of Texas of the Rio Grande Valley
Program: Online MSW: Direct Practice with Individuals, Families, and Groups and Community and Administrative Practice
Specialized Area: Direct Practice with Individuals, Families, and Groups and Community and Administrative Practice
Coursework: Fully online program with no campus visit required
Open to residents of Texas and other states with which UTRGV has agreements
CSWE Accredited
Status:
Available: Full Time and Part Time Options
Advanced Standing
Edinboro University of Pennsylvania
Program: Online MSW: Family Social Work Practice
Specialized Area: Family Social Work Practice
Coursework: Online program
Open to students anywhere in the United States
CSWE Accredited
Status: Fully Online
Available: Full Time
Advanced Standing
University of New England
Program: Online MSW: Individual, Family, & Group Practice (clinical-based) and Organizational and Community Practice (policy-based)
Specialized Area: Individual, Family, & Group Practice (clinical-based) and Organizational and Community Practice (policy-based)
Coursework: Asynchronous learning with no campus visits required
Open to students anywhere in the US and internationally
CSWE Accredited
Status: Fully Online
Available: Full Time
Advanced Standing
Metropolitan State University of Denver
Program: Online MSW: Individuals & Families and Macro (Leadership & Management)
Specialized Area: Individuals & Families and Macro (Leadership & Management)
Coursework: Online and hybrid formats
Primarily serving students in Colorado
CSWE Accredited
Status: Fully Online
Available: Full Time and Part Time Options
Boise State University
Program: Online MSW: Individuals and Families
Specialized Area: Individuals and Families
Coursework: Mostly Asynchronous, with the exception of practice and field seminar courses
Most of the US
CSWE Accredited
Status: Fully Online
Available: Full Time and Part Time Options
Advanced Standing
California State University, Northridge
Program: Online MSW: Urban Family Studies
Specialized Area: Urban Family Studies
Coursework: Online program using asynchronous instruction with 24/7 access to classes
Open to students anywhere in the United States
CSWE Accredited
Status: Fully Online
Available: Full Time
Top MSW Programs
Types of Social Work Programs